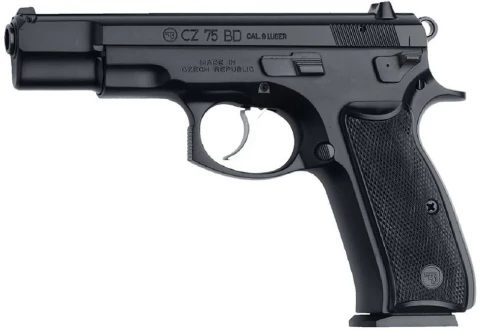 About CZ 75 BD
This model is a decocker version of the basic CZ 75 B model. The decocking lever mounted on the left side allows the hammer to be easily lowered on a loaded chamber for a safe, hammer down carry. CZ 75 B is used by more Governments, Militaries, Police and Security agencies than any other pistol in the world. The CZ 75 is quite possibly the perfect pistol. Designed in 1975, the CZ 75 is the flagship model of the CZ handgun line with over one million produced. An entire family of pistols is available based on the basic CZ 75 design: compacts, decockers, single action only, ambidextrous, alloy frames as well as competition pistols.
Specifications
| | |
| --- | --- |
| Brand | Cz-usa |
| Category | Handguns |
| Action | Single/Double |
| Caliber | 9x19mm Parabellum |
| Capacity | 16+1 |
| Finish | Black |
| Sights | 3 Dot |
| Barrel Length | 4.60" |
| Gun Type | Semi-Automatic Pistol |
Detailed Review
The CZ 75 BD is a variant of the popular CZ 75 B model, which is a double-action, semi-automatic handgun. It was designed and produced by Česká Zbrojovka, a Czech arms manufacturer that has been in operation since 1936. The "BD" in the name stands for "decocker," which means it has an additional safety feature that allows the shooter to safely decock the hammer without firing the gun.
The CZ 75 BD has a steel frame and slide, with a matte black finish that is both durable and attractive. It comes in two sizes: the full-size version has a 4.6-inch barrel and measures 8.1 inches overall, while the compact version has a 3.8-inch barrel and measures 7.3 inches overall. Both versions have a capacity of 16 rounds in the magazine, with an additional cartridge in the chamber.
One of the standout features of the CZ 75 BD is its ergonomics. The grip is contoured and textured for a comfortable, secure hold, and the slide is easy to manipulate. The recoil is manageable, thanks to the low bore axis and the dual spring recoil system. The trigger pull is smooth and consistent, with a double-action pull weight of around 12 pounds and a single-action pull weight of around 5 pounds.
The sights on the CZ 75 BD are also noteworthy. The rear sight is adjustable for windage and elevation, and the front sight is a high-visibility fiber optic sight that makes target acquisition quick and easy. There is also an option to add a suppressor, thanks to the 1/2x28 threading on the end of the barrel.
Another advantage of the CZ 75 BD is its versatility. It can be used for self-defense, target shooting, or even competition shooting. Its accuracy and reliability make it a favorite among law enforcement and military personnel around the world. It is also relatively easy to disassemble and clean, making it a low-maintenance gun.
In conclusion, the CZ 75 BD is a high-quality, reliable handgun that offers excellent ergonomics, accuracy, and versatility. Its decocker safety feature, contoured grip, low bore axis, and adjustable sights make it a great choice for anyone looking for a dependable and comfortable handgun. Whether you are a seasoned shooter or a beginner, the CZ 75 BD is worth considering.
CZ 75 BD Reviews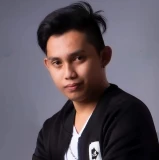 CZ 75 BD
High quality pistol. One of my best shooters, consistently! The CZ75 is a world class self-defense pistol, and the CZ75BD is my personal favorite because I prefer SA/DA decocker pistols. Incredibly accurate, super reliable, well-balanced - there's nothing not to like about the CZ75BD! Curt B on
This has been my primary carry for both personal and on duty for years now. I am still completely happy with it and its still great firing for years after. Peter H
November 12, 2018
This is my first CZ pistol and I admit I wish I had tried them many years ago ! What a great pistol, I picked up mine at my FFL a few weeks ago and got it out to the range today. Ran about 100 rounds through it without any malfunctions. Accurate right out Nathan D
November 5, 2018
This pistol is one of the most accurate I have ever shot. Fit and finish are very good. I have fired 500 rounds of 115, 124 and 147 grain ammunition with not one single malfunction. This gun feels great in the hand. recoil is very light and follow up shot Craig Y
September 3, 2018
CZ 75 BD bought Aug 2018. This experience started off on the wrong foot. FFL I chose got broke into the morning it was delivered (I almost ended up on the news), then I used 147 grain ammo, like I do in my other 9's, and the first round didn't even load r I'll start by saying Buds service and delivery have been great across several orders. I purchased the CZ-75BD from Buds in Dec-2017, so I've had it about 7 months. I've put 1,100 rounds through it and haven't had a single issue. No misfeeds, no failure to Kinda bummed when this was ordered it was listed as BD Police and I only got a regular BD. Other than that, CZs are fantastic and my favorite pistols. BIH. High quality pistol. One of my best shooters, consistently! Keith B
February 23, 2018
I purchased the CZ P-09 first back in 2016 and IMMEDIATELY fell in love with it. 2 years and 1600 rounds later it's still my "GO TO GUN". So I became a CZ fan. It's amazing how CZ is popular all over the world with the exception of North America. CZ makes Gilbert K
January 25, 2018
This is my fifth CZ, and I wish I had gotten it first. There is a saying: "the only people who don't have a CZ are the ones who haven't shot one". If you have, you don't need to read this review. If you haven't, you need to. These are spectacular guns, he I've used Bud's many times and I find the customer service to be an A+. Also, I appreciate Bud's vetting of their preferred FFL transfer agents. I used Vienna Arsenal (A Bud's preferred transfer agent in the Northern Virginia area) and I found their custo I love my Xd's, but the cz is alot more accurate for me. The fit and finish is very good, the sights need to be replaced the 3 dots are too small for me. The ergonomics of the grip are incredible, looking to buy the 75d pcr asap.
CZ 75 BD Questions and Answers