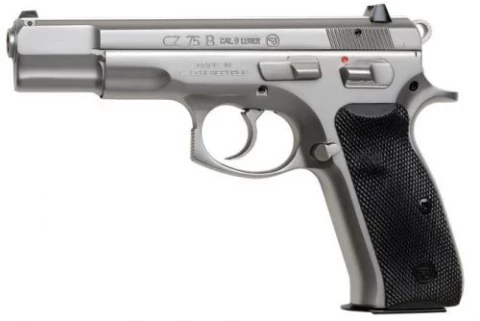 About CZ 75 B 91128
The CZ 75 B Stainless is the first stainless steel firearm to bear the CZ name. With the exception of an ambidextrous manual safety and rubber grips, the stainless version is functionally identical to the CZ 75 B. The only difference is an improvement in corrosion resistance, though many will argue that there is an improvement in appearance as well. CZ 75 B is used by more governments, militaries, police and security agencies than any other pistol in the world. The CZ 75 is quite possibly the perfect pistol. All steel construction (except alloy framed compacts) High capacity double column magazines Hammer forged barrels Ergonomic grip and controls Unparalleled accuracy Slide-in-frame design for better recoil control 3 dot sighting system (Tritium night sights available) Smooth double action and crisp single action Extended service life due to advanced design and superior materials Firing pin block safety
CZ 75 B 91128 Comparisons
CZ 75 B 91128 Reviews JACK F on
I have this in the blued version and wanted it in stainless. I have had no failures of any kind. You can't go wrong with a CZ 75 and I highly recommend them. Stephen R
September 1, 2017
This CZ shoots like a dream. The matte stainless finish is striking without being gaudy. No failures to feed or eject over 1000 rounds so far. Good communication and service from Bud's. This pistol has been very accurate, and very reliable for me. Had it about a year now, with no problems at all. I've been very happy with it. Johnny Trayne
March 23, 2017
Great balance and feel. Sold my M&P Pro 9mm after opting for the CZ. Accurate, smooth shooter. Have had good luck with various ammunition types. Occasionally get a casing that fails to eject if the gun is dirty. Best firearm purchase I've made in years. Hard not to be impressed with the quality of the pistol right out of the box. When dissembling to inspect and clean, it was obvious those who manufactured and assembled this gun takes pride in what they are doing. Thank you Bud's for having the best price on this CZ 75B. I got the matte stainless , and it is a beautiful gun. I have shot about 100 rounds through it with flawless results. This is now my sixth CZ pistol , and they are all extremely accurate and reliab I have had my 75B (in matte SS) for about 6 months. Have put about 500 rounds through it. (Almost) everything people say about this gun is true. It is one fine-looking weapon that shoots like a dream. It swallows hand loads and any brand of factory loads Thomas F
December 13, 2014
My favorite pistol. Great feel in the hand and extremely accurate, perfectly reliable. Very tame recoil. I have installed CZ wood grips and improved the looks of an already beautiful pistol. You won't regreat this one. Kenneth D
September 21, 2014
Love this CZ 75B. I've been wanting one of these for many years and finally decided to reward myself. The gun functioned flawlessly right out of the box. The finish is beautiful, no rough machining marks inside or out. Accuracy was more than acceptable fo I have put 200 rounds down range and this will be one of the most accurate guns you will ever shoot . the quality of the gun is excellent. be careful with internet descriptions of guns call and make sure buds customer service is the best. you will not be Joshua S
February 1, 2014
Excellent quality pistol fit and finish is wonderful, very comfortable in the hand with great ergonomics for me. I should of bought one along time ago Buds service was great as normal. Great gun ! Trigger was rough out of the box but dry firing smoothed it up a lot. Highly recommend !
CZ 75 B 91128 Questions and Answers
CZ 75 B 91128 Price History