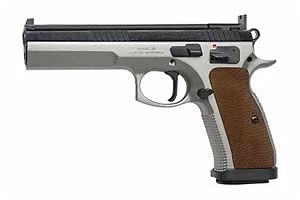 About CZ 75
Introduced in 2005, the new CZ 75 Tactical Sport in 9mm Luger and .40 S&W. The CZ 75 TS is a competition-ready pistol designed for IPSC standard division (USPSA limited division). The weight and balance of the CZ 75 TS are optimized for the rapid, accurate style of shooting necessary for success in practical shooting disciplines. The Tactical Sports model is the next generation of the proven CZ 75 Standard IPSC. The TS retains all of the best features of Standard IPSC model and improves upon the platform with increased durability, new sights, a new trigger system and more. The TS features a full-length dust cover, a 5.4 barrel (0.7 longer than the CZ 75 B) as well as a slightly larger grip to accommodate the higher capacity heavy duty magazine. Other features include a fixed rear sight, ambidextrous safety, extended magazine release, SA trigger, checkered front and rear strap and a gaping magazine well for the fastest magazine changes.
CZ 75 Reviews This gun has the coolest finish ever. The wood grips round out the look. Now the performance of the gun. The trigger is so light it almost takes some getting used to but when you do follow up shots are a breeze, but the low recoil is part of that also. Ve Awsome pistol. I have not shot a better one. oldtimer48
February 1, 2014
very accurate, easy to clean very little recoil! Received this relatively quickly despite major slow downs. This is perhaps THE most accurate pistol I've owned. Can hit steel plate sized target consistently at 100' and I'm a complete amateur shooter. The accuracy and magazine size alone make it worthwhi Gene Pozniakoff
January 27, 2013
Gene Pozniakoff on
I picked up a CZ 75 BD quite a few years ago. Love the feel, the accuracy and the capacity. Great weapon. Clint Logue
March 17, 2011
This is possibly the finest gun I've ever owned. Definately the most accurate. Easy to clean fires everything I've fed it,(thats pretty much everything) Only drawback is it's not easily concealable.
CZ 75 Questions and Answers
Asked by
geoz48
5 years ago
Please click the green box stating it as the best answer. We are rated on our answers and are just volunteers, not Buds employees. You can choose more then one Thank you!
Asked by
geoz48
5 years ago
Hi Steven, It comes with (2) 20 round magazines.