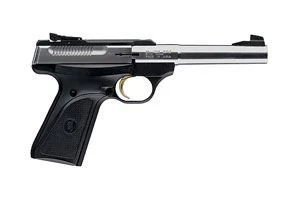 Browning Buck Mark Camper Stainless 051483490
Brand New
About Browning Buck Mark Camper Stainless 051483490
Caliber: 22 LR Action: Single Action Barrel: 5.5" Capacity: 10+1 Finish: Stainless Length: 9.5" Safety: 2 Position Frame Mounted Sights: Adjustable Frame: Black Plastic Magazine: 1 / 10 Round
Browning Buck Mark Camper Stainless 051483490 For Sale
Browning Buck Mark Camper Stainless 051483490 Comparisons
Browning Buck Mark Camper Stainless 051483490 Reviews Gear Obsession
January 9, 2019
Browning Buckmark - .22LR Pistol
The Browning Buck Mark has no recoil. It has a simple blowback design, has adjustable sights and an incredible grip finger grooves built-in. Browning Buck Mark 22 Pistol Review: Browning Hits Mark
The Browning Buck Mark features the quality of the grips. These incredible grips, with their comfortable finger grooves, give the gun a personalized feel ensuring increased accuracy and consistency. Buck Mark has a recessed muzzle crown to protect the gun DAN ZIMMERMAN
January 9, 2019
Gun Review: Browning Buckmark Camper
It has pretty much everything else A 5 ½" bull barrel. A reputation for shooting pretty much anything. It's reliable as all get-out, but the gun looks like it was crafted by the third period shop class. The Browning Buckmark Camper, on the other hand, is SH007ER: The Series
January 9, 2019
Gun Review: Browning Buck Mark Camper .22 LR - SH007ER Reviews
The Browning Buck Mark Camper 22 target pistol with very little recoil or noise. The features about this is it comes with a rubberized grip one of the nice things about this it is very comfortable in the hand especially, it feel what little recoil there i #SundayGunday: Browning Buck Mark Camper UFX
Browning Buck Mark Camper its a small rimfire pistol that also serves as a nice platform have served such as void delighting shooters young and old and like all buck marks its a straight blowback semi automatic pistol that offers enhanced simplicity and r Buck Mark Stainless Camper .22 LR Pistol
I've owned this gun about a year . I also have a High Standard and a Smith & Wesson , both semi-auto 22s . Of the 3 , the buckmark is the one I shoot most accurately . I'm buying another one for my daughter . CHRISTOPHER G
June 2, 2018
Gun looks great. I had the blue model years ago before this SS version. The trigger is not the best for consistant target shooting (compared to the excellent S&W Model 41). Ae It only comes with one magazine - though the case can hold an extra two inside. Dennis I
February 6, 2018
Took this Buck Mark to the range for the first time this weekend and put about 200 rounds thru it. Had one failed to fire and no other problems. Very reliable, smooth action! This pistol is very accurate!! I had groups of two to three inches. I am very im Lucinda W
February 5, 2018
This pistol is amazing. I shot 200 rounds of CCi Mini Mags (36 grain) and had NO misfires. Excellent gun for me a beginner—a lady with no past shooting experience. Very little recoil, almost none. The best gun to learn and train with. I purchased a pink H Keith S
December 28, 2017
Beautiful gun, great balance and shooter. With the Browning rebate you cant go wrong. dennis p
December 19, 2017
I own 11 handguns. Revolvers and semi's. Nothing fits my hand like the Buckmark UFX. The gun fits my hand instead of my hand fitting the gun if that makes sense.It is the most comfortable handgun I have ever fired. The fit and finish is excellent. More ac morris f
December 14, 2017
Awsome deal as usual this is my 5 gun from Buds wish i new about them years ago would have saved a ton of $$$ fast shipping great service ive told all my friends Thank You Buds
Browning Buck Mark Camper Stainless 051483490 Variations
Browning Buck Mark Camper Stainless 051483490 Questions and Answers
Browning Buck Mark Camper Stainless 051483490 Price History