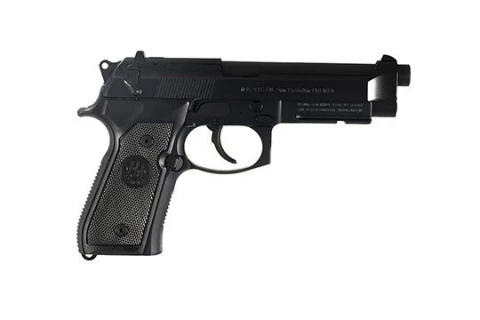 About Beretta M9A1
The Beretta M9A1 tactical pistol evolved from the base design of the battle-tested and proven M9, with input from military and law enforcement agencies around the world. Developed to meet the demanding requirements of the US Marine Corps, the M9A1 incorporates the established reliability and performance of the M9, with added features needed for the ever-changing missions of peacekeeping forces. Thanks to its accuracy, durability and versatility, it also makes a superb choice for personal or home-defense as well as concealed carry.
Specifications
| | |
| --- | --- |
| Brand | Beretta |
| Category | Handguns |
| Weight | 34.3 oz |
| Capacity | 15+1 |
| Finish | Black Matte |
| Gun Type | Semi-Automatic Pistol |
| Action | Double / Single Action |
| Caliber | 9x19mm Parabellum |
| Sights | 3-Dot Sights |
| Grip | Black |
| Barrel Length | 4.9" |
Beretta M9A1 Reviews Guillermo V
October 30, 2019
It's my 4th beretta m9a1rn I got rid if 2 and kept the 1st one and the last one I took home Monday sadly to say it feels grimy. Had to pull the slide with a lot of force. The barrel wear was significant and this is "new" . It not a big thing but it came t Gun Review: The Beretta M9A1 defies its critics
The Beretta M9A1 features an ambidextrous safety which also acts as a decocker the british design has an exposed barrel make the slide nice and light and fairly easy to rack but the biggest downside is the exposed barrel had 1 for 15 years 3500rds never a jam sig has changed extractors three times on 226 beretta got it right the first time my glocks hit me with brass two out of 10 times i fire it never a problem with 92 recoils less than any 9mm ex d s sigs sit high in yo I bought the gun for target/ competition shooting.and it fits great in my hand. Breakdown is easy and uses one spring loaded pin and a lever. All in all a simple and reliable gun. Leo on
i love this gun. it has been absolutely awesome for me. im just a regular guy who goes out and shoots paper and steel targets. this gun has never failed me. it fits good in my hand its accurate and its easy to clean. i would definitely recommend this to a
Beretta M9A1 Questions and Answers
Beretta M9A1 Price History