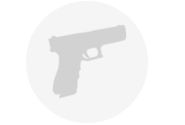 9mm - 115 Grain FMJ - Browning - 50 Rounds
Brand New
About 9mm - 115 Grain FMJ - Browning - 50 Rounds
From one of the biggest names in shooting sports comes the perfect ammo to develop your skills with! This 9mm ammo by Browning is a great selection for the most serious training. It's great if you've only just purchased your first firearm and need something dependable while you're learning the ropes. It's even great if you just want to fool around with some empty cans out back for a spell. This cartridge has a lightweight 115 grain bullet, so you probably notice relatively little recoil while firing it. The bullet is made of a simple lead core that is enveloped in a gilding metal jacket, which improves both its ability to feed reliably in a semi-auto as well as prevent lead fouling in its barrel. The FMJ's inability to deliver terminal expansion makes it a better choice for the range than for self-defense, but you could trust these rounds for backup. Together this round's light bullet and potent propellant charge create a supersonic 1,190 fps muzzle velocity out of a handgun. That conveys a flatter, easier to aim trajectory. Browning's non-corrosive primer won't threaten your firearm with rust, and their uniform brass case should continue cycling smoothly even after you've reloaded it.
9mm - 115 Grain FMJ - Browning - 50 Rounds For Sale
9mm - 115 Grain FMJ - Browning - 50 Rounds Comparisons
9mm - 115 Grain FMJ - Browning - 50 Rounds Reviews Good value and performance in todays market.
I used this in my 3D printed frames G17 and G19 glock clones. No problems at all! So I have to give it a 2 thumbs up for fun on the range. But, that's just me. It's 9mm that's available
Basically rebranded Winchester white box. Shot about the same. Dirty, but it went bang. Luckygunner shipped it wicked fast in a very plain box with no hint of contents on the label, which is always a plus.
9mm - 115 Grain FMJ - Browning - 50 Rounds Variations
9mm - 115 Grain FMJ - Browning - 50 Rounds Questions and Answers
9mm - 115 Grain FMJ - Browning - 50 Rounds Price History