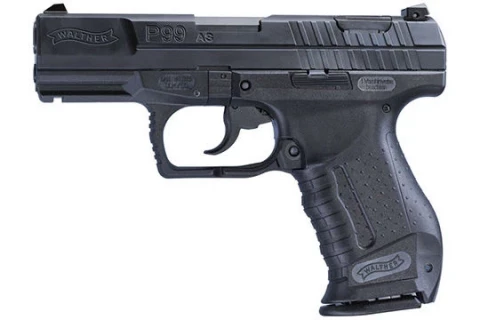 Featured Deal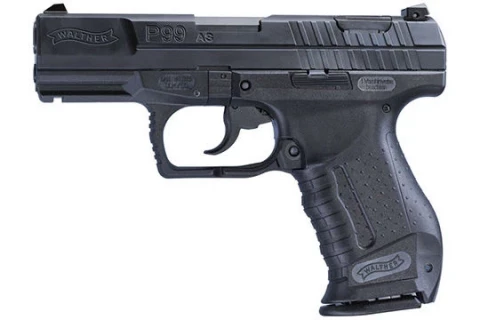 Product Description
As the first pistol equipped with a firing pin lock, the P99 AS combines the advantages of the traditional Double Action System with Single Action Anti-Stress trigger. The P99 provides the shooter with a user-friendliness previously found only in hammer fired pistols.Traditional … read more Double Action - The anti-stress trigger makes the P99 one of the world's safest firearms by preventing unintentional "reflex" firing in stressful situations. The decisive innovation: When the slide is racked completely to the rear upon loading, the trigger remains in the forward position for the first shot; not only in the double action trigger mode, but also in the single action mode. The trigger travel is .551" long in the anti-stress mode (at 4.4 lbs. trigger force), preventing inadvertent firing. On all subsequent shots, the trigger travel is reduced to .314" (at the same trigger force) and this permits firing in rapid sequence, due to the quick reset of the P99 trigger. The P99 AS is equipped with a decocking button to safely decock the striker. It acts as an automatic safety and is integrated directly into the slide to prevent snagging on clothing even if the gun is drawn quickly. Specifications: Weight: 21.3 oz. # of Mags: 2 Overall Length: 7.1" Safety: 2 Position Slide Mount
Specifications
| | |
| --- | --- |
| Brand | Walther Arms |
| Category | Handguns |
| Weight | 21.3 oz |
| Length | 7.1" |
| Action | Double Action |
| Caliber | 9x19mm Parabellum |
| Capacity | 15+1 |
| Finish | Black |
| Gun Type | Semi-Automatic |
| Sights | Adjustable |
| Grip | Black |
| Barrel Length | 4" |
Walther P99 AS Listings
Walther P99 AS Comparisons
Walther P99 AS Reviews Richard G
October 19, 2019
Richard G on
I deliberately chose to buy a lower cost weapon in order decide if I wanted to shoot 10mm. rnrnThe price was right & the reviews were substantially positive so I chose it. rnrnThe overall finish is quite good though there are visible tool marks that don't Curtis C
September 24, 2019
A terrific replacement for a G19. The grip fits the hand, the heavier "double action" is safer to carry. Good sights, and it shoots straight with less effort. An unsung hero among modern day firearms. It's unique features is what appeals to shooters who are amazed by this firearm. A DA/SA striker firearm. Extremely accurate and reliable. It goes without saying when it's a Walther. I have always admired the Walther 99. Bud's gave me the opportunity to pick one up at a great price. It's kind of an historic firearm in that it was designed for police forces transitioning from revolvers to semi-automatics. Really a cool handgun. Took to This is an awesome pistol. Super accurate. 100 rounds through it as soon as I received the pistol. P99 shot perfectly and accurately. Nicest shooting pistol I have. Buds guns customer service is top notch and best prices around. Very satisfied with this p This firearm is just awesome... I have various manufacturers/types of firearms and this one is hands down one of my favorites. The trigger takes a little bit of time to get used to but it's really smooth, and has a very VERY short reset. The ergonomics of Buds was great! Price was below competitors! Process was super simple. The firearm shipped fast. (My FFL had it in 3 days) The p99 is a great addition to my collection. Shoots well. Added some Trijicon bright and tuff night sights. I love it! As I'm writ Start out by saying that I have ten 9 mm handguns and the Walther P99 AS that I've recently purchased is the best by far in Accuracy and Trigger action haven't had it very long but it did great at the range today the trigger on this P99 is awesome I put WHAT CAN I SAY TYPICAL WALTHER EXCELLENCE. Lenard D
February 27, 2019
The P99as 9mm is an amazing weapon; fit and finish are fabulous. It fits my hand like a glove and points easily. The trigger is exceptional!! (note: double action pull is much like a double action revolver...but very, very smooth and safe for carry purp Terry R
December 22, 2018
The Walther was delivered as advertised... I can not give a full review of the weapon, because I have as yet to get to a range and fest fire it yet. So far though, I am completely satisfied. As for Bud's Gun Shop, I would give them a 10 out of 10 rating. Andrew C
October 26, 2018
I feel like James Bond when I whip this baby out. This is one of my favorite handguns that I own. Stupid accurate. Added Trijicon HD sights to it. I just wish mags weren't so expensive.
Walther P99 AS Variations
Walther P99 AS Questions and Answers
Walther P99 AS Price History