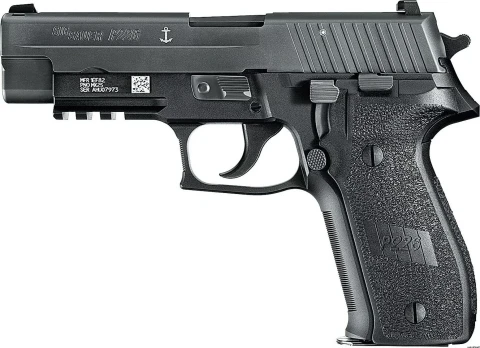 SIG Sauer P226 MK25
Brand New
About SIG Sauer P226 MK25
SIG Sauer's 226 Centerfire Pistols' German-made precision make them the choice of Navy SEALs, Texas Rangers and other elite military and law-enforcement units around the world. Black hard-anodized aluminum frame. Ergonomic grips.
SIG Sauer P226 MK25 For Sale
Detailed Review
The SIG Sauer P226 MK25 is a full-sized, double-action pistol that was originally designed as a military sidearm for the United States Navy SEALs. It is one of the most reliable and popular handguns in the world, and it has been praised for its accuracy, durability, and versatility.
The P226 MK25 features a 4.4-inch barrel and a overall length of 7.7 inches. The slide is made from stainless steel, giving the gun a sleek and polished appearance. The frame is made from anodized aluminum, which makes it both lightweight and durable. The grip is designed to provide a comfortable and secure hold, even in wet conditions, thanks to its Non-Slip Grip texture.
The P226 MK25 uses a traditional double-action/single-action trigger system, which can be safely carried in either condition. The first shot is fired in double action, which requires a longer and heavier trigger pull, while subsequent shots are fired in single action, which requires a lighter and shorter pull. This system provides a high degree of flexibility and control for different shooting situations.
The P226 MK25 is chambered in 9mm and comes with a 15-round magazine. It features a fixed front sight and a rear sight that is adjustable for windage and elevation, allowing for precise aiming at different distances. The gun also comes with a Picatinny rail, which allows for the attachment of various accessories, such as a flashlight or laser sight.
The P226 MK25 has been tested under rigorous conditions and has proven to be extremely reliable and accurate. It has a reputation for being able to withstand heavy use and abuse, making it well-suited for law enforcement and military applications. The gun has been used by law enforcement agencies around the world, as well as by civilian shooters who appreciate its performance and reliability.
In conclusion, the SIG Sauer P226 MK25 is a high-quality handgun that is both reliable and accurate. It is well-suited for law enforcement and military applications, as well as for civilian shooters who want a dependable and versatile handgun. Its exceptional performance, durability, and versatility make it a popular choice among gun enthusiasts and professionals alike.
SIG Sauer P226 MK25 Comparisons
SIG Sauer P226 MK25 Reviews hasim a on
sig sauer p226 MK25 is the best gun in my opinion but you can get wrong with any sig p226.buds have best services and prices Best Pistol Made
Always was a Glock Fan until I bought and shot this Pistol. Like Going from a Mustang to a Ferrari. Thanks to Buds, I was finally able to add this high quality firearm to my collection. The gun, the Sig Sauer MK25, arrived at my FFL a few days after Buds notified me it was being shipped. As always, my gun arrived in perfect condition, with all of the in Johnathan R
April 11, 2018
As always buds guns never dissapoint. Very fast shipping(Recieved in two days). The firearm came in its factory new hard case and looked ever so brand new dispite being a little greasy, nothing a good cleaning cant fix. I will definitely be ordering many Wilfredo S
April 10, 2018
I like the sig sauer p226 mk25 is a pistol so the price is good and the shipping is fast the gun arrived in good condition thank you I will continue with you safe and reliable when buying a firearm Apopkan2582
April 4, 2018
Absolutely the best gun in my collection
I've had this for about a year. It is reliable. Shot around 1,000 rounds of different ammo. Mostly cheap 115 gr target stuff as well as some HP defense rds. Not one failure - ever. It is super accurate. Recoil is very well managed. Grips are awesome! Even Melvin R
February 28, 2018
Perfect condition, high quality gun, delivered the same week ordered. I'm very very happy with my purchase. No secret than I'm gonna keep ordering from buds. wetfly4
February 18, 2018
P226 Emperor Scorpion - Another Great Sig!
I recently purchased the Sig P226 Emperor Scorpion. This is my first P226, but not my first Sig Sauer. In addition to this P226, I also own several P229's, P320 and a SigPro 2340. Overall the fit and finish are excellent. It fits my hands perfectly. The f ArchieRLib
January 22, 2018
It is fantastic that the Guide has these available, and at a fantastic price - especially for us members. I'm retired LE and have always wanted a P226, but never pulled the trigger on one. I'm glad I did. The MK25 is basically a beefed up and corrosion re RobNicTim
January 7, 2018
Very Impressive Gun
Purchased for tactical shooting. This gun has yet to disappoint, it's very reliable and works like a dream. Very accurate and easy to breakdown. This is the kind of weapon that when you take it out of the box, you know you have something special. No issues coming out of the box (and a thorough cleaning)..It shot very well at the range and I liked it so well that I purchased a second to which I add The best of the best
Sig P226 Is by far my favorite handgun I have ever shot. fits perfect in your hand, shoots smooth with little recoil. The navy seals carry and use this gun, they only use the best!( Through rigorous testing. I have shot over 10,000 rounds through mine and
SIG Sauer P226 MK25 Variations
SIG Sauer P226 MK25 Questions and Answers
SIG Sauer P226 MK25 Price History