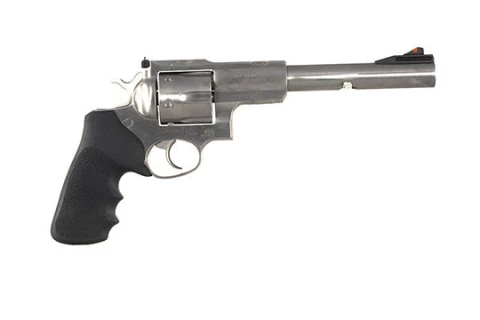 Ruger Super Redhawk 5505
Brand New
About Ruger Super Redhawk 5505
Potent Strength and Power. Ruger Super Redhawk revolvers have all of the advantages of the Ruger Redhawk plus additional features like the unique Ruger cushioned grip system, hammer-forged barrel and an extended frame machined to accept Ruger scope rings (included free of charge, not available on Ruger Super Redhawk Alaskan models).
Ruger Super Redhawk 5505 For Sale
Specifications
| | |
| --- | --- |
| Brand | Ruger |
| Category | Handguns |
| Weight | 53 oz |
| Action | Single/Double Action |
| Caliber | .454 Casull |
| Capacity | 6 |
| Finish | Satin stainless |
| Gun Type | Revolver |
| Sights | Adjustable |
Ruger Super Redhawk 5505 Comparisons
Ruger Super Redhawk 5505 Reviews Thomas H on
Excellent gun. Big and heavy. Shot it with 45 colt ammo. Handled it like a dream. Shipped gun was a little dirty but that isn't Bud's fault. This gun is a beast. The only six shot 454 Casull out there. Accurate and dependable hunting revolver. Shoots both 454 Casull and 45 Colt ammo without issue. Highly recommend for big, dangerous game. Evith T
September 5, 2018
Incredible handgun, which is everything I expected and more. Bud's is not a "ship the same day" type of company that many of us have come to appreciate in this modern age, but very professional, none the less. This is by far my favorite firearm in my collection, with my favorite cartridge!! I've owned several Taurus and ruger revolvers and let me tell you, when I was looking at 454s I considered the Taurus raging bull but based on any other Taurus I've had (44 I love this gun, my new favorite toy. Buds shipped fast as always. Buds rocks. But this gun is really something special. I love the range of ammo, from low power 45 Colt cowboy loads through 454 Casull loads that are in rifle territory power-wise. I've he Ruger is a premier American gun maker, make no mistake. This revolver is an example of their engineering and craftmanship with handguns. Besides being beautiful, their "stupid tough". I was delighted with the fit, feel and workmanship that Ruger put into English S
December 23, 2017
I bought the Super Redhawk 454 Casull and it is a very well made revolver. It is accurite and has a very smooth action. I got it with a 7 1/2' barrel to help control recoil. It works for me. The grip is excellent, and seems to take most of the bite out of Fit and finish are outstanding, Function was flawless. Five out of five stars! If you are looking for the ultimate hunting handgun, this is it. You get 6 rounds 454 Casull in a package the size of a N frame S&W. I considered getting the S&W 460, but after handling one, it seemed too bulky to me. The Ruger is built like a tank, it sh Can't wait to get to the range! Bud's has, as always got my purchase to my FFL in the time stated another flawless transaction. Thanks (and now that I'm a member) Team Buds! Oh, I'll have a further review once I've fired this Hand Cannon. Bought this in 454 Casull. A well made revolver. Accurate and even though it is a powerful round, the grips make it comfortable to shoot. What can you say. If your buying this pistol you know what its all about. It sure has a lot of boom for the buck. The fit and finish were perfect and Ruger's customer service is second to none. I sent the pistol in to check the clearance between the cylin
Ruger Super Redhawk 5505 Variations
Ruger Super Redhawk 5505 Questions and Answers
Ruger Super Redhawk 5505 Price History