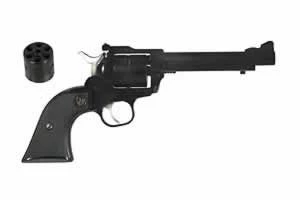 Ruger Single-Six 0621
Brand New
About Ruger Single-Six 0621
Strong, Durable, Dependable, and Versatile. New Model Single-Six revolvers are the perfect small bore single-action revolver for plinking, small game hunting or serious competition. Chambered in either 22 LR, 22 Magnum, or 17 HMR, these great single-action revolvers come in a variety of barrel lengths, finishes, sights, and grips. Single-Ten models have a ten-round capacity and feature Williams Fiber Optic sights and Gunfighter style grips. Single-Nine models also come with Williams Fiber Optic sights and Gunfighter style grips but are chambered in 22 Magnum and have a nine-round capacity. Convertible models come with two cylinders (one in 22 LR and one in 22 Magnum) for increased versatility. Hunter models are equipped with an integral barrel rib for rigid mounting of Ruger scope rings (supplied at no extra charge).
Ruger Single-Six 0621 For Sale
Ruger Single-Six 0621 Comparisons
Ruger Single-Six 0621 Reviews Floyd M on
Now this Ruger Single Six 22/22mag is a joy to shoot at the range. No flaws and very accurate. Excellent fit and finish. Used various types of ammo, no issues. Accuracy depends on you and the ammo. Cylinder lines up well for ejecting spent casings. This Ruger Single Six Convertible is an amazing handgun. Well built, solid frame, very accurate. Can't go wrong purchasing this gun.
Ruger Single-Six 0621 Variations
Ruger Single-Six 0621 Questions and Answers
Ruger Single-Six 0621 Price History