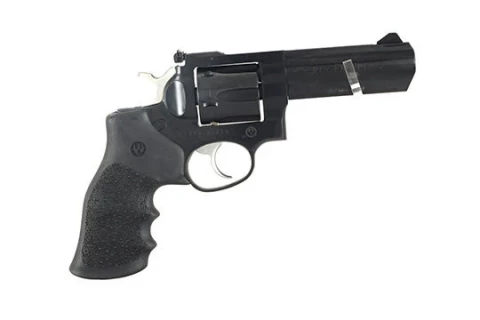 Ruger GP100 1702
Brand New
About Ruger GP100 1702
Strength, Simplicity and Ruggedness. Ruger GP100 double-action revolvers are among the most comfortable shooting revolvers. Their rugged, medium-sized frame and grip system permit repeated firings with minimal shooter fatigue. Easy on the hand and budget, all GP100 revolvers boast solid steel sidewalls (no side-plates), and frame widths that are increased with extra steel in critical areas that support the barrel, making them rugged, reliable, and dependable.
Ruger GP100 1702 For Sale
Specifications
| | |
| --- | --- |
| Brand | Ruger |
| Category | Handguns |
| Weight | 40 oz |
| Capacity | 7 |
| Gun Type | Revolver |
| Sights | Adjustable |
| Action | Single / Double |
| Caliber | .357 Magnum |
| Finish | Black |
| Grip | Hogue |
| Barrel Length | 4" |
Ruger GP100 1702 Listings
Ruger GP100 1702 Comparisons
Ruger GP100 1702 Reviews maythe4thbewithu
May 11, 2020
maythe4thbewithu on
Blue GP100 4.2 inch barrel - solid. Love the blue finish on this model. Stock grip does soak up the recoil. Grips easy to change to smaller for carry or wood for a different look. Lock-up is tight, trigger DA is smooth on this example. Ruger Tough!
This GP 100 seems like a real brute! I suppose you could break it but you would have to work hard at it. Michael H.
March 21, 2012
Easy to shoot even the big bad 357mag. I have been warned of. The recoil was very manageable. I had very good control first time I fired it. I have"t a critical word to say, it"s really enjoyable to shoot. I have the 7 inch barrel in stainless. Easy to shoot and clean. Very accurate. A bit on the heavy side. But, that helps with the recoil from the magnum rounds. I have put approx 1500 rounds through this revolver without any issues. It is very accurate in single action. The double action pull is a bit heavy. Recoil with 650lb+ of muzzle energy 357 mag is reasonable. 38+P is mild and the regular 38 special feels l Fred Howard
February 16, 2011
I'm an averaged-size guy: about 190 pounds on 5' 9" frame--this gun fits me perfectly (I've the 6" blued .357 version). I find this gun controllable with medium Hornady 125 and 158 grain self-defense .357 magnum loads (have not fired hot Buffalo Bore or C Jeremy Davis
January 18, 2011
Good value for a large revolver. The stock grip is ugly as sin but does a good job accepting recoil. Buy some aftermarket grips and the whole look of the gun will change. It's heavy, but it's supposed to be. Full 357 loads are a joy to shoot and 38's hard
Ruger GP100 1702 Variations
Ruger GP100 1702 Questions and Answers
Ruger GP100 1702 Price History