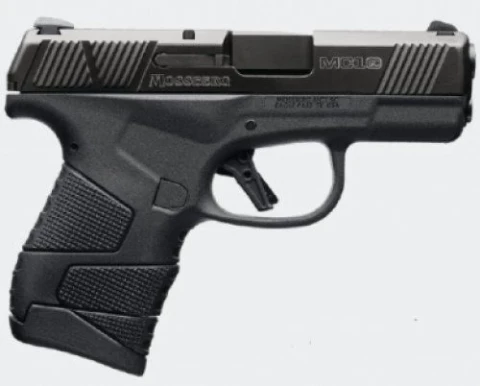 About Mossberg MC1SC
Trouble is unpredictable. It shows up without warning. It rears its ugly head when and where you least expect it. Trouble has no conscience. No regrets. No remorse. So be prepared. And be protected. Introducing the MC1sc Subcompact 9mm Pistol by Mossberg. Combining optimal shootability with superior ergonomics, the MC1sc features an optimized grip angle for easier targeting, a flat-profile trigger for an improved pull, and our exclusive Safe Takedown System: a design that does not require the user to pull the trigger during the disassembly process. The MC1sc Subcompact 9mm Pistol. Be ready to strike back. Specifications: # of Mags: 2 Rate-of-Twist: 1-in-16"
Mossberg MC1SC Comparisons
Mossberg MC1SC Reviews Wilson s
November 22, 2019
Wilson s on
Not my first purchase from buds and won't be my last! The mossberg mc1 is a neat little pistol and it's cheap. I opted for the safetied version to save a few bucks. The safety is pretty positive and I doubt it would engage or disengage accidentally. Eithe donald g
September 15, 2019
Very impressed! Smooth transaction, very good communication all completed via e-mail. Item arrived at my FFL with no hiccups. I will do my shopping here from now on. Thanks Team Buds!! I had high hopes after Reading reviews and viewing videos. BUT..in the 175 rounds I have fired I have experienced 23 malfunctions. The gun failed to chamber factory FMJ ammo o the first round-so I knew I had trouble. Yes I did have trouble: failure to ext Long story short I like this gun and I reccomend purchasing it. Short story long I was concerned out of the box. The first day I had the gun I took it straight out to the range. I didnt clean it, only put a little Rem oil on it racked the slide a few time good accurate little pistol, but i went back to 43. Bud's service was great as usual.Mossberg mc1 is a good shooter put about 50 rounds through it felt nice smooth action and no felt recoil. Christopher S
May 8, 2019
After taking the MC1 to the range, it is now my new EDC... and the wife wants her own for EDC now too. Gun was flawless, accurate and felt natural in the hand. The take-down is interesting and simple. I was a bit unsure about the mags, but they've been so I have had this Mc1sc for 3 weeks and put 500 rounds through it. I've only had one failure to eject and that was with a new ets g43 mag. After I got the ets mag broken in its had zero issues. The mags it comes with and the factory Glock 43 mags have been Just put 100 rounds through the MC1 with flawless action with Blazer ammo. Target grouping mostly within 6" except. Take down and cleaning was very simple. Like this pistol as much as my Glock 26 or Sig 928! Buds delivered on time and is respected my nice pistol, fits nicely in my hand, feels to be made of quality material. I look forward to putting more rounds through it!! It's good to see Mossberg back in the pistol market after a hundred year absence to focus on shotguns. The MC1sc is a great product to reenter the pistol market. It's in the same class as the Glock 43, Kahr PM9 and the Kimber Micro 9. Like the Kahr, the m Matthew H
February 22, 2019
Love this gun !! I have put over 400 rounds through without a issue. It has become one of my favorites to carry
Mossberg MC1SC Variations
Mossberg MC1SC Questions and Answers
Mossberg MC1SC Price History