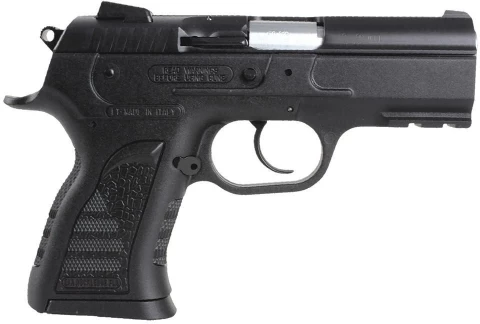 EAA Tanfoglio Witness Compact 999063
Brand New
About EAA Tanfoglio Witness Compact 999063
Say you want a pistol for self defense, home defense or lawful concealed carry. There are so many choices out there. You want a pistol that could be a carry gun as well as enjoyable to shoot and chambered in a caliber that can knock down an assailant. Get a Witness in polymer. Compact or full size or even better yet, get a Witness P Carry to give you that added advantage in a carry/defense pistol while keeping the fun of shooting a Witness pistol. Witness Polymer Pistols can be converted to 9mm, .40SW, .45ACP & 10mm
EAA Tanfoglio Witness Compact 999063 For Sale
EAA Tanfoglio Witness Compact 999063 Comparisons
EAA Tanfoglio Witness Compact 999063 Reviews Harold R
October 29, 2018
Harold R on
An excellent investment, shot 2" group, all shots touching at 8 yards offhand- after cleaning and lubing. One jam in second magazine fired, none after. Would be even better without the light rail and an additional magazine. This is my second EAA Witness. Unfortunately, I regret this purchase. It has been shipped back to the manufacturer twice already. The pistol is completely unreliable and jams with every shot. EAA was hesitant to take it back for service the second time ev ok I paid attention to the previous post and held on tight to the gun ) After i cleaned it out , I took it to the range not knowing what to expect . The gun fuctioned 100% no ffl or any problems, it shot a good group first 20 rounds. The grip fits my hand Very happy with delivery time. Pistol is awesome. In fact I just made another purchase because of the service I purchased a handgun from Bud's a few weeks ago, and, as usual, Bud's purchasing process and the delivery time were both excellent. However, I have no good news for the product involved. I bought a Tanfoglio 10 mm Witness compact pistol. Upon receiving a Good. Gun for the money fit and finish is flawless ran 600 rounds or so. Thru it with out a hiccup Gun has a great trigger and very little recoil. The bas is that it shoots very low and I have to pay for all S&H for warranty repair services on gun that has a well known accuracy problem. I'm gonna end up selling it. This is a great firearm for the Bud's price. Great service and fast delivery. Feels good, shoots smooth,this is a great firearm, European American Armory ,thisfitsinto my collection well ,the price was good Very happy with buds on this purchase, super fast shipping and the gun was pristine. I was a little unsure about them after my first purchase but I will use them for all of my firearms purchases from now on. The gun is great, good fit and finish (not as g Edward S
September 26, 2011
Bud's is great and so is this purchase, more than expected.
EAA Tanfoglio Witness Compact 999063 Variations
EAA Tanfoglio Witness Compact 999063 Questions and Answers
EAA Tanfoglio Witness Compact 999063 Price History