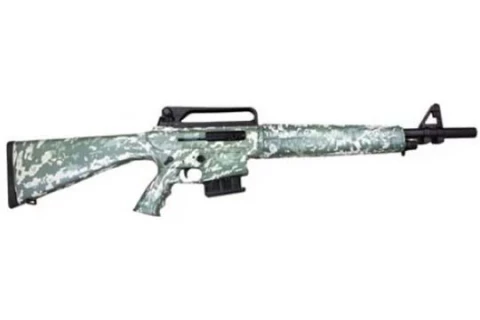 About EAA MKA 1919
Semi-automatic, gas-operated shotgun patterned after an AR-15 style. Black synthetic stock and forearm. Fixed pistol grip and stock. Removeable magazine. Equipped with Full, Modified and Cylinder Bore choke tubes with wrench. Adjustable rear sight.
Specifications
| | |
| --- | --- |
| Category | Shotguns |
| Action | Semi-Automatic |
| Capacity | 5 |
| Barrel Length | 18.5" |
EAA MKA 1919 Reviews Devin S on
Amazing gun! So much fun to shoot. However it does not like Winchester universal bulk pack shells. It has no problem cycling any other 2 3/4 shells as long as their velocity is at least 1200fps. This is a great performing shotgun. I use it for hog hunting w/00 buckshot. The cost/quality aspect is outstanding. There no better home defense weapon. Timothy D
September 14, 2017
I give 5 Stars for this badA** shotgun. Although the lower receiver and carry handle are polymer, this was dead on using rifled slugs and buck shot. Heavy loads worked perfectly, no problems with feeding or ejecting. I put 40 rounds of heavy loads then sw Brad P
September 12, 2017
Look and feel of this firearm is rather impressive. I've shot a hundred rounds of birdshot through it so far. I had several failures to feed in the initial couple magazines, loading them properly is important, each shell must be flush with the back of the I also bought this shotgun from budsgunshop with no fun ... Jam almost every time .. This is a no no gun to buy One bad ass gun. Buds is the best thanks First off, dealing with Bud's is a no-brainer. Always a pleasure. Good looking gun. Fit and finish was good. Shot over 50 rounds, various variety, and no problems. Very good buy. This is a great Gun to shoot. Shot it around Christmas and no problems. It kicks pretty good because there's no buffer spring like an ar-15. Well worth the money and love the mag fed shotgun. mka 1919 is a HOOT! brand new, took apart, cleaned and lubed, loaded up 2-3/4 00 and commenced firing. 40 rds and 2 failures. Took apart, cleaned and tried again...1 failure to feed from mag. Noted the trigger is terrible, lots of take up and gritty. Took Seen this shotgun from another retailer and had to do some research on it. glad I did the first gen had some troubles but the MKA Match is one fine gun. ran 100 rounds though it the first day. no jams or misfeed we had shells at 1100 fps to 1300 fps with Confesor G
February 17, 2016
Nice product no complaints at all runs good excellent I recomended the item 100% buy from this site faster shipping A+++++++ Recently received my 1919 and was pleased to see that it's the improved Match version. The gun arrived in great shape and considering being price about half of what the VEPR is a good deal. I've heard these things are pretty finicky about ammo, but mine w
EAA MKA 1919 Variations
EAA MKA 1919 Questions and Answers
EAA MKA 1919 Price History