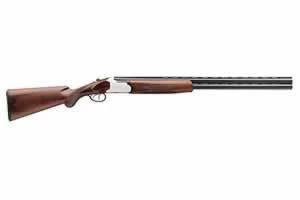 About CZ Mallard
The Mallard is designed to be the simplest, most cost effective over and under shotgun CZ-USA produces. It features the standard box-lock frame with the same hinge system used in the more detailed models, but it employs a dual trigger system to keep the production costs low. It has been a favorite for those who like the functionality and reliability of an over/under with a cost well below most semi-auto shotguns and even some pumps on the market these days.
CZ Mallard Reviews Gary M on
Just a beautiful functional firearm. I bought this because of the dual triggers, a rarity on an over-under. The quality of this firearm is unmatched in my collection at this price point. I rate it as one of my best purchases . 12 ga Over/Under Mallard. Took it out to shoot clays. Put 120 rounds through it. Shotgun performed flawlessly and feels balanced. Although the shotgun feels light, recoil was OK. It did take a little time to get used to the double triggers. However, I bou Great over/under for a very reasonable price. I have put about 5 boxes of shells through it and the action is still tight. Feel and finish are great. Triggers are crisp. Great little grouse gun for the money. David P
September 28, 2016
Received my CZ-USA Mallard and I am pleasantly surprised that it is even nicer than I expected. Fit and finish is very nice. Ran a couple of boxes of shells through it. Doesn't kick as much as some reviews. Buds was great as always with VERY fast shipping Awesome shotgun well worth the money very accurate and shoots great. I love it I have always wanted a working mans O/U shotgun. The Mallard is that and much more. I bought it because of the dual triggers. Keeping things simple. It balances like a dream. After years of owning pumps this is a step up in my opinion. Can with 5 choke tu Excellent shotgun, the fit and finish are impeccable. The feel of the gun is very comfortable,and light. Gun arrived in its own gun case, with barrels and stock wrapped in their own felt bags. The chokes also came in a hard plastic container and are very Bought this gun as a lower end gun. It looks great out of the box. My son greased the hinge on assembly and it opened great. Would definitely buy another. richard m
January 23, 2016
Picked up my order at my FFL dealer, very happy the folks at Budds are great people the process was flawless , now if I could get the weather to cooperate so I can try it out. Thanks again Budds I will recommend you to all my friends. Mine is a 20 gauge with 28" barrels and dual triggers. What a fantastic shotgun. I plan on getting another. Michael K
November 16, 2015
I was tempted many times to buy something cheaper. I just kept stashing a little away every month. I am so happy I didn't. What a beautiful shotgun. Rock solid. I wanted dual triggers. It swings wonderfully. Comes with five choke tubes. I am now saving fo I loved the gun. Light weight and very accurate. It looks beautiful as well.
CZ Mallard Variations
CZ Mallard Questions and Answers