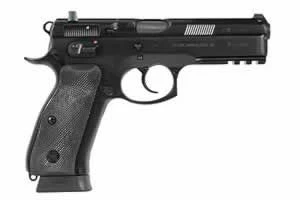 About CZ 75 SP-01
Designed in 1975, the CZ 75 is the flagship model of the CZ handgun line with over one million produced. The CZ 75 is used by more governments, militaries, police and security agencies than any other pistol in the world. It is quite possibly the perfect pistol. Specifications: Weight: 40.7oz Overall Length: 8.15" Additional Info: Cold Hammer Forged Barrel
CZ 75 SP-01 Reviews JATINDER A on
This is a beauty and so glad I added it to my collection of 9mm's :) Have shot and owned everything from 1911's to Browning High Powers and most everything inbetween.... Yet these CZ's are impossible to beat for reliablility and accuracy. After widdling gown my collection I am down to 2-CZ SP01's a CZ Shadow 2 and a nerv I%u2019ve had it for a couple of weeks. First day, I took it right out of the box and put 300 rounds through it with zero issues. I used a healthy mixture of FMJ and JHP from cheap steel cased, defensive steel cased, and typical brass cased cartridges. I Griffin M
October 16, 2018
I only have two issues with this weapon and that is the feeding style being a bump feed where of the round is taken from the magazine pushed up a feed ramp bounced off the top of the chamber and falls flat as the slide closes like a 1911 And second I do l Alexander K
July 10, 2018
Received CZ 75 SP-01, as described and as shown on site. Very good prices and made my first purchase a breeze. Would highly recommend! Fantastic pistol! Full size, steel frame, the real deal. A couple of range sessions and 850 initial rounds later, absolutely zero issues. Accurate, sweet shooter. Buds was great with fast shipping. Excellent item. Good fit and good feel in the hand. Fine weapon. Had a difficult time locating one of these until I came across this on Buds site. Shoots fantastic. And as always, Buds service is great Picked this fine piece of metal up today and put 250 rounds down range. First off let me say this gun is top notch fit and finish are custom type quality. The gun is very soft shooting and makes very nice groups when firing rapid fire. The grips are made After shooting several 75s and reading a lot of reviews I felt good about purchasing a cz pistol. The pistol had a lot of oil coating the internal parts from the factory, the outer grip handle screw was not tight due to it being stripped and the set screw Terrific pistol. I started doing action pistol competitions a few months ago with my sig. on the advice of another competitor I looked at CZ and ended up with an SP-01. I made a quick grip change to accommodate my hand size and totally fell in love with i I prefer my CZ 75-SP01 over my Walther PPQ M2 (5″ barrel) because, since it is a heavier gun, there is considerably less muzzle flip and noticeably less recoil. The CZ is also much more stable when holding with one hand. The Walther's slide is easier to r
CZ 75 SP-01 Questions and Answers
CZ 75 SP-01 Price History