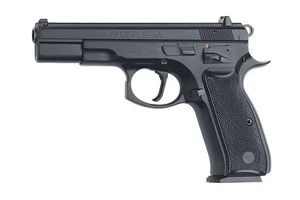 About CZ 75 B 91150
The CZ 75 B SA (single action) is identical to the CZ 75 B in all aspects except that it has a single action trigger mechanism. The trigger is a straight blade type and is adjustable for overtravel. This version is perfect for sport shooting. CZ 75 B is used by more governments, militaries, police and security agencies than any other pistol in the world. The CZ 75 is quite possibly the perfect pistol. All steel construction (except alloy framed compacts) High capacity double column magazines Hammer forged barrels Ergonomic grip and controls Unparalleled accuracy Slide-in-frame design for better recoil control 3 dot sighting system (Tritium night sights available) Crisp single action Extended service life due to advanced design and superior materials Firing pin block safety
CZ 75 B 91150 Comparisons
CZ 75 B 91150 Reviews Charles B
January 1, 2019
Charles B on
CZ 75 B SA is an awesome handgun that handles and out performs many of my high priced handguns! Have purchased from Bud's before and always super pleased with fast shipping. This is the first gun I own. I tried plenty of them before I made my choice. No regrets whatsoever. After about 1000 rounds not a single problem. Very accurate. Very reliable. I am really happy! leonard s
September 18, 2018
The cz 75b sa pistol arrived in excellent shape and fast shipping. Out of the box no problems on the range very accurate with little recoil. The only change I made was putting g-10 grips on. I own several cz's, all metal and fine workmanship. I recommend Michael D
February 2, 2018
Terrific pistol. Highly recommended. Bryan H
November 19, 2017
Buds is awesome. Fun handgun. Awesome CZ pistol! My favorite 9mm to shoot! The SA trigger is not as nice as a 1911 but it is close. Replaced some springs with Cajun Gun Works springs and this sucker shoots! With the aftermarket springs and the all steel construction the recoil is real Nelson H
November 15, 2017
I love the entire line up of cz 75 pistols,they are built solid ,fit the hand exceptionally well and are very accurate.For the price, they cant be beat. Michael C
October 6, 2017
Awesome. All that needs to be said. Buds shipped far faster than expected. Now I just need an ammo sponsor because I cant stop shooting this pistol. Very pleased. Robert C
September 21, 2017
I have more 9mm pistols than Carter's got liver pills and this is the one I'd keep if I were only allowed one handgun. No mods needed except for some CZ rubber grips. This sample has a smooth and surprisingly light trigger, decent sights (that are spot-on Functioning has been 100% so far with this gun, using both ball and defensive type hollow point ammunition. Accuracy has been great also, and the weight and size of the pistol make for pretty comfortable shooting too. For home defense and target use, the Built like a tank. The SAO trigger is just ok but this gun is accurate and the felt recoil is minimum. I nice quality piece. Edward Cacace
August 26, 2016
I have owned and fired many handguns over the years and I have to admit, the CZ 75 B SA is the best pistol of them all. Ridiculously accurate and the all steel frame and slide makes firing even the hottest 9mm loads a pleasure. I have the Tritium Sights a
CZ 75 B 91150 Questions and Answers
CZ 75 B 91150 Price History