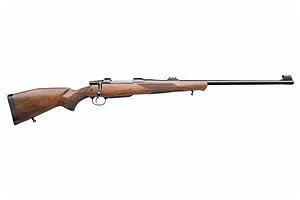 CZ 550 American Safari Magnum
Brand New
About CZ 550 American Safari Magnum
New In Box. Part Number:04211 Buds Item Number: 11857
CZ 550 American Safari Magnum For Sale
Specifications
| | |
| --- | --- |
| Brand | Cz-usa |
| Category | Bolt Rifle |
| Weight | 9.9 oz |
| Action | Bolt Action |
| Caliber | .458 Lott |
| Capacity | 5+1 |
| Finish | Blue |
| Gun Type | Rifle |
| Sights | Express Sights |
CZ 550 American Safari Magnum Comparisons
CZ 550 American Safari Magnum Reviews Bud M on
This CZ 550 Safari is a heavy duty rifle. It is built very well. Fit and finish is excellent. Functioned flawlessly right out of the box. If you're looking for a big game rifle, you won't go wrong with this one. Buds ship time was very fast as usual. John Mahathy
July 26, 2018
I have one of these in .458 win mag. Its pointing characteristics with iron sights is by far the best I've seen. A very economical rifle to own for dangerous game. The first example of this rifle Buds sent to my local FFl had a safety that would not move, not sure what the issue was but I decided to send it back to Buds. They paid the shipping both ways and the replacement seems to work perfectly. I have not yet got The CZ 550 American Safari Magnum .375 H&H Magnum is a beautiful rifle. It, in my opinion is every bit as well made as my Ruger M77 Mark II Magnum 458 Lott with premium circassian walnut stock. FYI, the stock on my CZ .375 matches the Ruger, as I see it. one of the best guns ever made!!!! nothing I would change on it William B
December 6, 2015
The usual fast shipping ..you just can't beat the price for this much rifle...thanks buds I've had this rifle for about 8 months now and it is one of my favorites, i mounted a low power leupold scope with quick detach rings on it and it has been a fantastic shooter with cheap privi partizan ammo all the way up to the premium ammunition. It doe Excellent rifle that is solidly built. The rifle required no sight in and was everything I could have expected from a big bore. Took three shots at 45 yards all within a 2 inch group. Buds provided excellent service and received rifle in a timely manner. I purchased this gun a few weeks ago and have been amazed. I wanted to see how well the iron sights worked and I was blown away by the accuracy. This gun is a tank and built like one. The mag will hold 5 shells and the bolt will cycle them as fast as you I picked this rifle up, held it in my hands and experienced an epiphany. I own multiple medium grade rifles from many different mfgs, Rem, Savage, Browning, Tikka, CVA, Win, ... I also bought 3 Glock pistols before I picked up a CZ75. Wish I had bought ev Fantastic firearm. Once I worked out which type of ammo the gun liked, I was able to get very nice groupings with both expanding bullets and solids. Extremely reliable and functional. Cycles perfectly, the positive claw extractor adds a degree of predicta
CZ 550 American Safari Magnum Variations
CZ 550 American Safari Magnum Questions and Answers
CZ 550 American Safari Magnum Price History