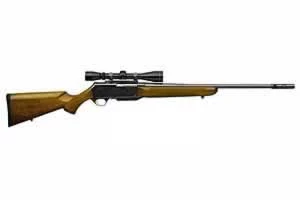 Browning BAR Safari w/BOSS
Brand New
About Browning BAR Safari w/BOSS
BOSS (Ballistic Optimizing Shooting System) allows the shooter to fine tune the rifle\'s accuracy to surpass that of any other autoloader. One-piece ordnance steel receiver that is richly blued with scroll engraving and drilled and tapped for scope mounts. Fluted stock design incorporates a full pistol grip with an undercut and is contoured for use with open sights or a scope. Cross bolt safety with enlarged head. Single stage trigger. Detachable box magazine. Hinged floorplate. Barrel is machined from hammer-forged, heat-treated billets of steel. Safety lock is included.
Browning BAR Safari w/BOSS For Sale
Browning BAR Safari w/BOSS Comparisons
Browning BAR Safari w/BOSS Reviews TODD BURGREEN
January 9, 2019
Gun Review: The Browning BAR Mark II Safari in .300 Win Mag
Semi-automatic rifles were new to the hunting arena in the late 1960s. But the Browning BAR had the "it" factor from its inception in terms of aesthetics. The BAR's longevity and reputation as a hunting rifle comes from combining semi-automatic speed with Chuck Hawks
January 9, 2019
The Browning BAR Mark II Rifle
The Browning BAR Mark II is the most popular of all semi-automatic hunting rifles. It comes in three basic models: Safari, ShortTrac/LongTrac, and Lightweight Stalker. BAR Mark II rifles feature advanced self-cleaning gas operation, seven lug rotary bolt, BAR Mark II Safari with BOSS
The Browning BAR Safari with BOSS this is the rifle that set the standard for hunting semi-autos. Featuring fine Walnut, a precision machined ordinance steel receiver and a hammer forged barrel, this magnificent BAR will make autoloading enthusiasts out o farleyjj1
January 9, 2019
Shooting the Browning BAR Mark II Safari
The Browning BAR Safari with Boss its sets the standard and autoloading hunting rifles the 30.6 cartridge its one of the most flexible one and with the advent of the ability to use semi automatic hunting rifles in Pennsylvania one of the flexible features 23mrcowboys
January 9, 2019
Browning BAR II SAFARI 270 WIN.
The Browning BAR Safari with Boss its in chambered in 270 usually it doesns't wear the bipod but its just holding the rifle up then shot probably 10 times its in 100% condition these are probably some of the best semi auto centerfire high powered rifles e Michael F
December 7, 2018
A beautiful masterpiece. Best 30.06 I have even seen or hold. Great service from Buds. NTycingProductions
April 12, 2015
Beautiful B.A.R. you own. I have a Belgium made one in .300WinMag I love these rifles. Well made and very accurate for a semi. I have been very satisfied with this gun. There are no complaints at this time. I have added a scope, sighted the scope, and adjusted the boss. Went for a small hunt on wild hogs gun was perfect. Only one issue there was a missing part contacted buds and
Browning BAR Safari w/BOSS Variations
Browning BAR Safari w/BOSS Questions and Answers
Browning BAR Safari w/BOSS Price History