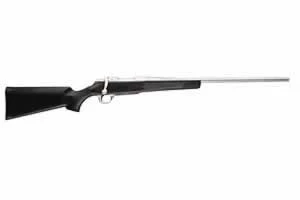 Browning A-Bolt Composite Stalker
Brand New
About Browning A-Bolt Composite Stalker
Receiver - Steel, Matte blued finish, Glass bedded, Drilled and tapped for scope mounts • Barrel - Matte blued finish, Free floating, Hand chambered, Target Crown • Action - Bolt-action, 60º bolt lift, Non-rotating bolt sleeve, Adjustable trigger, Detachable box magazine, Hinged floorplate, Top-tang safety • Stock - Composite, Matte black, Checkered • Features - Sling swivel studs installed, Recoil pad, BOSS® and BOSS-CR option
Browning A-Bolt Composite Stalker For Sale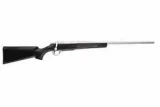 Browning A-Bolt Composite Stalker Comparisons
Browning A-Bolt Composite Stalker Reviews Browning A Bolt and A Bolt II Trigger Adjustment Trigger Spring Kit - M*CARBO
The Browning A Bolt II is the original able got a spring kit option for to reduce the trigger pull really impressive sixty percent trigger pull reduction fantastic. This allows for greater scope clearance and faster cycling. The ergonomic bolt knob's shap Dave Henderson
January 8, 2019
Browning A-Bolt Stalker Review
A-Bolt centerfire rifle design chambered for 12-gauge–is considered to be one of the best quality production slug guns ever made. But Browning simply couldn't sell enough of them in the presence of other, fairly accurate rifled-barrel bolt-actions. The A- Uncle Nick
January 8, 2019
Test Report: Browning A-Bolt II Composite Stalker
The A-Bolt's magazine has two other unique features: The follower is tensioned by a scissors-type cartridge elevator instead of a normal "Z" spring which makes the cartridges ride up smooth and level without tipping or binding and is smooth and silent in Chuck Hawks
January 8, 2019
The Browning A-Bolt II Rifle
The A-Bolt II is available with the optional Browning BOSS system. The BOSS (Ballistic Optimizing Shooting System) is an accuracy enhancing and recoil reducing system that includes an adjustable muzzle brake/weight. (There is also an optional non-vented B huntandshoot
January 8, 2019
Browning X Bolt Stainless Stalker 25-06 Rem
These are the characteristics of the Browning A-Bolt II Stainless Stalker rifle. This stainless steel, matte finished firearm features a fibreglass-graphite composite stock that can withstand any weather condition, Browning's famous A-Bolt action, free-fl MustHaveOutdoors
January 8, 2019
Browning A-Bolt 3
Browning's AB3 Composite Stalker gives you legendary A-Bolt accuracy and performance in a value-packed platform. The AB3 Stalker combines a matte blued finish barreled action with a rugged matte black synthetic stock to create a high-performance hunting r GunsAmerica.com LLC
January 8, 2019
Browning A-Bolt III RMEF Edition
Browning A-bolt III, Rocky Mountain Elk Foundation Medallion (RMEF) Edition 7mm Remington Magnum. Brand new in box, unfired, 26" barrel, realtree blued. This is really powerful and powerful gun its quite comfortable. Sportsman Group
January 8, 2019
Browning A-Bolt III Review
The A-Bolt III is a solid entry into the highly competitive budget-centerfire market. Browning has managed to produce a gun that provides price-conscious hunters and shooters with the accuracy they demand without feeling Davidsons GalleryofGuns
January 8, 2019
Gallery of Guns TV - Browning AB3 Hunter
It has 3 locking lugs that provide a 60 degree bolt lift that gives you plenty of hand clearance under any scope. its good to handle and the accurate is way too good, its reliable and smooth action trigger. Picked this baby up for my daughter to replace her pathetic .243 Mossberg youth combo that we could never get sighted in. Mounted a Leupold VX2 on this .270 and couldnt be more pleased. Easy 1" groups with her shooting at 100yds, for $385 after Brownimgs VALENTINO PLAZA
February 3, 2015
I love this gun. It can realkt reach out and touch anything you scope into. Hand loads are the best Hornady vmax 165 grain. This is one of my babies from the safe.
Browning A-Bolt Composite Stalker Variations
Browning A-Bolt Composite Stalker Questions and Answers
Browning A-Bolt Composite Stalker Price History