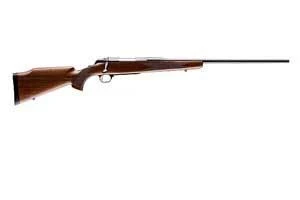 Browning A-Bolt Hunter
Brand New
About Browning A-Bolt Hunter
This rifle features a raised cheekpiece or comb which you can see in the profile above. This helps to direct recoil into the shoulder area and get the shooter's line-of-sight lined quickly with the scope. This rifle features a fine low-luster bluing on the barrel and receiver with a satin-finished walnut stock. It also bears the logo of the Rocky Mountain Elk Foundation on the grip cap. This is a tribute to the Rocky Mountain Elk Foundation and a percentage of sales from this rifle goes to help support habitat, range, health and studies of elk throughout the United States.
Browning A-Bolt Hunter For Sale
Specifications
| | |
| --- | --- |
| Brand | Browning |
| Category | Bolt Rifle |
| Weight | 6 oz |
| Action | Bolt Action |
| Caliber | .325 WSM |
| Capacity | 4+1 |
| Finish | American Walnut Stock |
| Gun Type | Rifle |
| Sights | Adjustable |
Browning A-Bolt Hunter Comparisons
Browning A-Bolt Hunter Reviews X-BOLT RMEF SPECIAL HUNTER
The Browning X-Bolt RMEF Special Hunter is a bolt-action rifle chambered in .325 WSM. It is one of 18 variations on the X-Bolt series offered by Browning. The RMEF Special Hunter is distinct for its raised cheekpiece meant to direct recoil into the shoote Davidsons GalleryofGuns
January 8, 2019
Gallery of Guns TV - Browning AB3 Hunter
It has 3 locking lugs that provide a 60 degree bolt lift that gives you plenty of hand clearance under any scope. That might be perfect for Colorado elk hunting. love my gun use rem core-loc set 1in high at 120yds and just shoot right at him 2-3-400yds its hell on coyotes too
Browning A-Bolt Hunter Variations
Browning A-Bolt Hunter Questions and Answers
Browning A-Bolt Hunter Price History