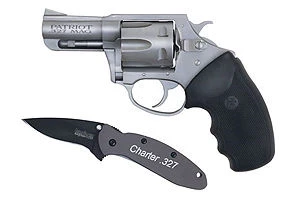 Charter Arms Pitbull 79920
Brand New
About Charter Arms Pitbull 79920
The 9mm Rimless Revolver PITBULL uses the same unique rimless cartridge extractor assembly system as the Charter Arms .40 cal Rimless Revolver. A dual coil spring assembly located in the extractor allows insertion and retention of a 9mm cartridge in each chamber of the revolver's cylinder. After firing, the shooter can easily eject the spent cartridges for immediate reloading. Nick Ecker, President of Charter Arms, added, "Shooting enthusiasts will appreciate owning an American made revolver in 9mm and finding ammo is readily available and affordable. With its reduced recoil, the PITBULL is user friendly for even the beginning shooter."
Charter Arms Pitbull 79920 For Sale
Charter Arms Pitbull 79920 Comparisons
Charter Arms Pitbull 79920 Reviews A 9mm Revolver? People don't believe me when I say I own one! Rare for sure! It's a very fun Gun to shoot! Great for a carry Gun as well. I have ran about 500 rounds through it and it performs 1000% Not a lot of 9mm revolvers out there but this one is great for the price. Accurate at 25 yards shooting 8 inch steel. Put 50 rounds through it with no problems. Good choice for those with weak hands or wrists. Great service. I had one that I put 50 rounds down range on. The cylinder stopped spinning. I sent it back and Charter Arms completely went thru it and sent me a brand new revolver. The second revolver only got about 25 rounds thru it before the same issue happened. I This is the perfect companion to my Glock 17 - uses the same ammo, and loads EASILY from a Glock magazine - LOVE IT!!! i have several 9mm semi autos and have seen other companies with 9mm and 380, but they needed moon clips. charter arms is the only company that doesn't require them. nice piece, good weight and very accurate. Tom N on
Got seven light strike misfires out of fifty rounds of factory made ammo. I contacted Charter Arms and they arranged for Fedex to email me a free shipping label. Presently the revolver has arrived back to the manufacturer and should be fixed and returned I wrote a long review but I took too long and Buds logged me out..so here is the short version.. This is a good weapon, not as polished as a more expensive revolver. It ejects spent casings perfectly for me with a firm tap to the ejector with your palm wh this gun had many missfires , also hard to load . looks like you have to push hard on rounds to load them in cyl. Jack C
September 29, 2015
Bud's has super fast delivery, I ordered this on Wednesday and it got to my FFL dealer by Friday! They also have great prices. This pistol is a pretty good deal. The fit and finish are not as good as a Ruger or Smith and Wesson, but it is OK. The trigger
Charter Arms Pitbull 79920 Variations
Charter Arms Pitbull 79920 Questions and Answers
Charter Arms Pitbull 79920 Price History