Century Arms JW-2000 Coach
Brand New
About Century Arms JW-2000 Coach
12 Gauge 3 inch Caliber Side by Side Action Wood Stock 20 inch Barrel 2 round Capacity Blue Finish
Century Arms JW-2000 Coach For Sale
Century Arms JW-2000 Coach Comparisons
Century Arms JW-2000 Coach Reviews Beretta DT11 Sporter shotgun review
Wood quality is very good, highly figured and pretty while the parallel semi beavertail fore-end has the advantage of feeling the same wherever it is held. The wood has been treated to a matt oil finish; very attractive and practical to boot. it is good i Shotgun
This Century Shotgun mimics the "Old West" look and feel. The 12-gauge scatter shotgun has authentic features such as fully functional rabbit ear hammers and double triggers that can be fired individually or simultaneously. The Century Arms Coach shotgun Ian Coley
January 5, 2019
Beretta DT11 Sporter at Ian Coley Gunshop
This a reliable and versatile weapon. This DT11 Sporting is durable and offers superb quality suitable for steel or lead shot, making it a great choice for competition shotgun. Fabbrica d'Armi Pietro Beretta S.p.A.
January 5, 2019
Beretta Black Edition DT11 Sporting
This could look like a standard DT11 white, in a black color but it is not, there are a lot of new features that make this shotgun unique. the first great features is the introduction of the carbon fiber. It has a new rib and the new trigger guard totally Amazing gun and I hear its low key made by Norinco which is awesome. Give us back Norincos and Polytech Legends lol gun comes drenched in grease so get ready to clean. The action is pretty stiff but with a little bit of polishing and spring cutting if you misty m
December 26, 2018
Absolutely gorgeous gun! Very well taken care of and a HUGE hit with the Mister. at this time I can't say much, weather is bad here, now, but everything looks good and came fast,can't wait till I can get it out to try. TJ martin m
October 20, 2018
Descent shotgun for the price. Had it a couple years already no issues. Fun to shoot especially both barrels at the same time!! Kicks like a mule!! Keith C
September 26, 2018
Quality of my JW2000 12ga. was actually nice all around. Wood looked great, blueing was thin but complete. Its heavy... 8lbs. The action is stiff but it will loosen up. The gun came dripping with so much oil. I cleaned it up and ran some slugs, and 00/ bu The weapon was exactly what I was looking for!! It was I'm great shape and works as expected! Fast shipping! Definitely shopping here again!! Keep it up!! This is a really cool shotgun, I spent a half hour with jewelers files and emery cloth to tune up the break action a bit and now its smooth and functions perfectly. I dont think I would take one to combat but its still a really cool shotgun. a heavy, solid, beast of a gun.But that's how it SHOULD be! This gun in intimidating just holding it.It performs all its functions,the few that there are. Being a little heavy helps with the recoilI It is accurate as it needs to be out to about 30 feet..T
Century Arms JW-2000 Coach Variations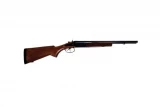 Compare 1 deals from $208.20

Compare 1 deals from $346.95
Century Arms JW-2000 Coach Questions and Answers
Century Arms JW-2000 Coach Price History