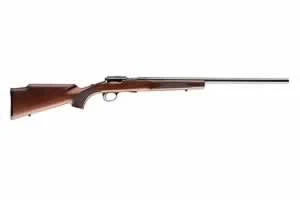 Browning T-Bolt Target/Varmint
Brand New
About Browning T-Bolt Target/Varmint
Receiver - Steel Blued finish Drilled and tapped for scope mounts. Barrel - Heavy target Blued finish Free floating Semi-match chamber Recessed crown.Action - Straight pull bolt-action Top-tang safety Adjustable trigger.Stock - Satin finish walnut Monte Carlo comb Wide fore-end Checkered. Features - Sling swivel studs installed Scope not included.
Browning T-Bolt Target/Varmint For Sale
Browning T-Bolt Target/Varmint Comparisons
Browning T-Bolt Target/Varmint Reviews My experience with the Browning T-Bolt I bought was a mixed bag-though the rifle was impressively accurate,the overly heavy trigger pull (6 pounds) made it difficult to realize it's full potential. Adjusting the trigger did no real good so, after some ag Anthony P
September 19, 2018
Anthony P on
Fantastic rifle well worth every penny I sighted it in fresh out of the box at 50 yards shot a group small enough to be covered with a dime it definitely prefers federal premium vmax over hornady and cci vmax along with cci gamepoint and TNT hollowpoint a TheCanine2
December 4, 2016
Beautiful Gun. I'd like to have one. I've seen one in .22 wmr, which is what I'd prefer, being as I already have a few .22lr weapons. OTOH, I'd also like one of the Henry's, and they're less money. Decisions... Nice rifle dude. When are we gonna see it in action with the bunnies? wonderful craftsmanship...great gun Overall, very pleased with this rifle. Good quality and accuracy. After bore sighting, put first 10 round group in quarter size group at 50 yards. Seems to really like the Hornady .17 v-max loads the best.
Browning T-Bolt Target/Varmint Variations
Browning T-Bolt Target/Varmint Questions and Answers
Browning T-Bolt Target/Varmint Price History