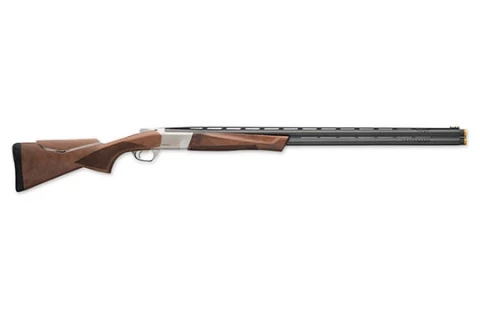 Browning Cynergy
Brand New
About Browning Cynergy
If you desire a powerful, reliable and versatile weapon, you can't go wrong with the Browning Cynergy Sporting with Adjustable Comb Over Under Shotgun. The Browning Cynergy Sporting with Adjustable Comb Over Under ShotGuns is known for delivering massive power at close range, making it a great choice for a shotgun. The Browning Cynergy is a range of over and under double-barreled shotguns which were introduced in 2004. It is considered to be a major departure from the traditional design of over and under shotguns, which date back to the early 20th century. The Cynergy is manufactured at the Miroku Firearms Manufacturing plant in Kochi, Japan. The Cynergy is substantially different in its design from Browning's previous Over and Under shotgun, the Superposed.
Browning Cynergy Comparisons
Browning Cynergy Reviews Gun Review: New Cynergy CX Shotgun from Browning
The Cynergy made a technological breakthrough with its MonoLock Hinge, making it possible to create an over-under shotgun with an ultra-low profile receiver. The MonoLock Hinge is the integration of the monoblock (the metal on the bottom of the receiver t Randy Wakeman
January 11, 2019
The 2015 Browning Cynergy Field: Browning's Greatest Bargain?
The pad, plus the reasonable weight, makes this Cynergy a soft shooter. The Cynergy shoulders effortlessly and has a very good safety that won't cause you grief with frozen or gloved hands, as opposed to the poor-purchase Beretta safeties that have a ten Davidsons GalleryofGuns
January 11, 2019
Gallery of Guns TV 2018 - Browning Cynergy CX
This Browning Cynergy is great in shooting trap, skeet and hunting the reason is obviously maintaining the same gun field in sight feature all year long. The Cynergy is regulated to give you that 60 40 pattern target shooters demand, 60% of patterns shou Renaissance Firearms RenArms
January 11, 2019
Browning Cynergy Sporting 1st Shots & 1st Impressions
The mechanical trigger similar to a rifle very fast lock time, it also has a monolock hinge it puts the barrels really low into the receiver so your hands and the barrels are really lined up well. This also come with an adjustable trigger and they come wi Bruce Potts
January 10, 2019
Browning Cynergy shotgun review
The Cynergy's workings are fascinating. Some other guns have some of the features, but nothing else has the whole package. The action block, machined from a solid steel forging, is one of the shortest in the business, and the first visible difference is t I bought the Cynergy for shooting trap and skeet and couldn't be happier with my purchase. It has a unique ramp with a concave ridge allowing the shooter to pick the bird up quicker. Very fast handling and fits great. Its designed to be shot and will make Initially I wondered if I could like an O/U which look for different but after shooting it I wondered no more. Quite simply it fits, not much more that you can ask of a shotgun. I have used it on the clay field as well as for hunting, you always get stran Dave Krenshaw
November 18, 2011
This gun is not for the trigger happy semi-auto guy. This is for the guy who can wield a precision O/U reach out and hit what others only brag that they've done it too!!! Beautiful gun in nice infinity camo -- was hard to find one in this pattern and paid a little more than I hoped buy glad I scooped up the one I did. I like the infinity over the duck blind, which tends to yellow over time in high use areas, and it looks n
Browning Cynergy Variations
Browning Cynergy Questions and Answers
Browning Cynergy Price History