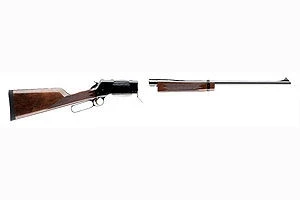 Browning BLR Lightweight Monte Carlo
Brand New
About Browning BLR Lightweight Monte Carlo
FAMILY: BLR Lightweight Series  MODEL: BLR Lightweight  TYPE: Rifle  ACTION: Lever Action  FINISH: Blue  STOCK/FRAME: Wood Stock  STOCK/GRIPS: Checkered Walnut  WEIGHT: 7 lbs. 4 oz.  CALIBER/GAUGE: 30-06  CAPACITY: 4+1  BARREL: 22"  OVERALL LENGTH: 43"  RECEIVER: Alloy/Matte Blued  SIGHTS: None  SAFETY: Half Cock  ADDL INFO: Monte Carlo Cheekpiece  ADDL INFO: Checkered Satin Finish  DRILLED/TAPPED: Yes
Browning BLR Lightweight Monte Carlo For Sale
Browning BLR Lightweight Monte Carlo Comparisons
Browning BLR Lightweight Monte Carlo Reviews KENNETH M on
Nice enough gun, I sold. The high rise stock, and flat blueing, and plainness, just did not feel right. SouthAussieShooting
January 9, 2019
Browning BLR Model 81 Lever Action 243 Win Review
This is a blumenstock with a blue barrel and it is short stroke action, it also has special feature of it which is a bulb which which twist and this is more accurate than the non vult twisting. this has a simmons the 3.8 to 12 power scope and comes with s The Hunting Gear Guy
January 9, 2019
Browning BLR Review
The rack based operates more smoothly than a typical Win 94, and the bolt locks up solid enough to fire powerful cartridges. The detachable magazine is faster to load than a tube, and it also enables further flying pointed bullets vs the flat or hollow po #SundayGunday: Browning BLR Lightweight 81 B
at first glance the lightweight 81 looks like a throwback to the BL of the rifle 1970s and 80s but there are several major difference in this modern iteration of a classic, first the receiver is made from aluminum alloy rather than steel, it changed that Browning.
January 9, 2019
BLR Lightweight `81
With a timeless beauty that's more than skin deep, the BLR Lightweight '81 is ready and waiting to be your next lever-action hunting rifle. The gloss finish on the Walnut straight grip stock contrasts beautifully with the deeply polished blue finish on th Winchester
January 9, 2019
Browning BLR Preview 2015
Compact and easy to transport, the BLR Lightweight '81 Takedown can be assembled or disassembled in just seconds. The Browning BLR lightweight the basics with a rifle got the Browning lever action its a real old the western classic style rifle which is p Bradley D
January 1, 2019
I am very pleased with the quick delivery to my local gun shop. I have shot the BLR in at 70 yards had 4 shots that I covered with a quarter. Very pleased. bill george
November 25, 2013
This gun is well crafted and easy to use I love it and will never buy a different brand.
Browning BLR Lightweight Monte Carlo Variations
Browning BLR Lightweight Monte Carlo Questions and Answers
Browning BLR Lightweight Monte Carlo Price History