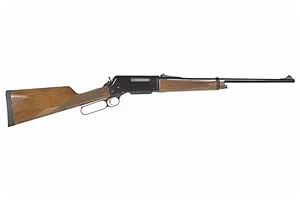 About Browning BLR
Detailed Review
The Browning BLR (Browning Lever Rifle) is a lever-action rifle that was introduced by Browning Arms Company in the year 1969. This rifle is known for its sleek design, exceptional accuracy, and reliability. The BLR has undergone several changes over the years to improve its performance, but it still maintains its iconic style and sophistication.
The Browning BLR comes in a variety of calibers ranging from .22-250 Remington to .450 Marlin. The rifle has a rotating bolt head that locks directly into the barrel, which provides improved accuracy and strength. It also features a detachable box magazine that holds four rounds, which makes reloading quick and easy.
The BLR has a lightweight and compact design, making it easy to carry and maneuver. The stock is made of high-quality walnut and has a checkered grip and fore-end that provide a non-slip hold on the rifle. The receiver is machined from aircraft-grade aluminum alloy, which makes it both durable and lightweight.
The Browning BLR has a smooth and reliable lever-action mechanism that allows for quick follow-up shots. The lever is located on the underside of the rifle, which makes it easy to operate with either hand. The trigger pull is crisp and clean, which helps improve accuracy.
The BLR also features a variety of safety mechanisms to prevent accidental discharge. The rifle has a half-cock position that prevents the hammer from contacting the firing pin unless the trigger is pulled. It also has a cross-bolt safety that prevents the rifle from firing unless it is fully engaged.
The Browning BLR is an excellent choice for hunters and shooters who want a reliable, accurate, and stylish rifle. Its lightweight design, versatile caliber options, and reliable performance make it an excellent rifle for a wide range of hunting and shooting activities. Whether you're targeting small game, big game or just shooting for fun, the Browning BLR is sure to impress.
Browning BLR Reviews The Hunting Gear Guy
January 9, 2019
Browning BLR Review
This Browning BLR this it is lever action hunting rifle its got a pretty compact pretty fast design and in terms of lever actions its pretty unique the magazine fed whereas most leader actions are to have a magazine tube along the bottom of the rifle and Adriel Michaud
January 9, 2019
Classic Browning BLR Review
The rack based operates more smoothly than a typical Win 94, and the bolt locks up solid enough to fire powerful cartridges. The detachable magazine is faster to load than a tube, and it also enables further flying pointed bullets vs the flat or hollow po Browning BLR Rifle Review: Browning Brings The Heat!
BLR is because of the lever action. However, if the lever action doesn't deter you, then you should really consider the BLR. Browning's attention detail and commitment to excellence is clear with this gun. Multi-purpose shooters will love that the BLR was GUN REVIEW: BROWNING BLR LEVER ACTION RIFLE IN .223
The BLR is an oddity. It's a lever-action rifle that uses a rack and pinion system instead of the standard toggle-link in most lever rifles. This allows it feed from a magazine instead of using a claw and elevator to draw rounds from a tube and, consequen Winchester
January 9, 2019
Browning BLR Preview 2015
The Browning BLR lightweight the basics with a rifle got the Browning lever action its a real old the western classic style rifle which is pretty cool because its no Tang safety in any of that sort of thing none of that rubbish loading in the chamber. The Dedeedee
January 15, 2017
I have one my dad bought brand new in 1969 for 149 bucks. It is an awesome rifle very accurate and fun to shoot. BusinessRecovery
April 8, 2016
Nice looking rifle! Where did you get the holder for your magazine clip? Does it hold two clips? Btw, I have two Browning BLR lever action takedown style rifles. The 20" barreled 30/06 has an illuminated Leupold 3.5-10 56mm and the other 16" barreled sco Levi Palmer
July 18, 2015
Owning a Browning BLR is like having a hot wife. Take her out, show her off, then take her home, cover her in oil and put her to bed. Gorgeous piece Nutnfancy
Browning BLR Questions and Answers
Browning BLR Price History