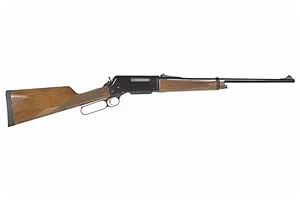 About Browning BLR
Browning BLR Reviews The Hunting Gear Guy
January 9, 2019
Browning BLR Review
This Browning BLR this it is lever action hunting rifle its got a pretty compact pretty fast design and in terms of lever actions its pretty unique the magazine fed whereas most leader actions are to have a magazine tube along the bottom of the rifle and Adriel Michaud
January 9, 2019
Classic Browning BLR Review
The rack based operates more smoothly than a typical Win 94, and the bolt locks up solid enough to fire powerful cartridges. The detachable magazine is faster to load than a tube, and it also enables further flying pointed bullets vs the flat or hollow po Browning BLR Rifle Review: Browning Brings The Heat!
BLR is because of the lever action. However, if the lever action doesn't deter you, then you should really consider the BLR. Browning's attention detail and commitment to excellence is clear with this gun. Multi-purpose shooters will love that the BLR was GUN REVIEW: BROWNING BLR LEVER ACTION RIFLE IN .223
The BLR is an oddity. It's a lever-action rifle that uses a rack and pinion system instead of the standard toggle-link in most lever rifles. This allows it feed from a magazine instead of using a claw and elevator to draw rounds from a tube and, consequen Winchester
January 9, 2019
Browning BLR Preview 2015
The Browning BLR lightweight the basics with a rifle got the Browning lever action its a real old the western classic style rifle which is pretty cool because its no Tang safety in any of that sort of thing none of that rubbish loading in the chamber. The Dedeedee
January 15, 2017
I have one my dad bought brand new in 1969 for 149 bucks. It is an awesome rifle very accurate and fun to shoot. BusinessRecovery
April 8, 2016
Nice looking rifle! Where did you get the holder for your magazine clip? Does it hold two clips? Btw, I have two Browning BLR lever action takedown style rifles. The 20" barreled 30/06 has an illuminated Leupold 3.5-10 56mm and the other 16" barreled sco Levi Palmer
July 18, 2015
Owning a Browning BLR is like having a hot wife. Take her out, show her off, then take her home, cover her in oil and put her to bed. Gorgeous piece Nutnfancy
Browning BLR Questions and Answers
Browning BLR Price History