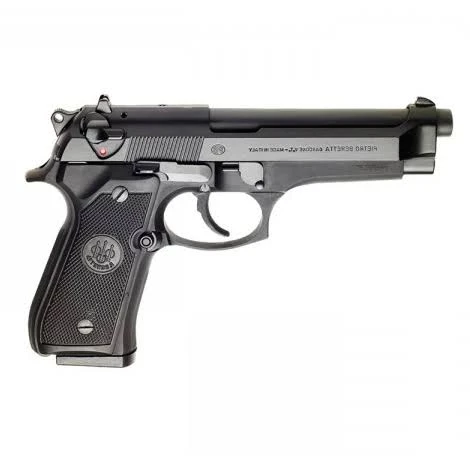 Featured Deal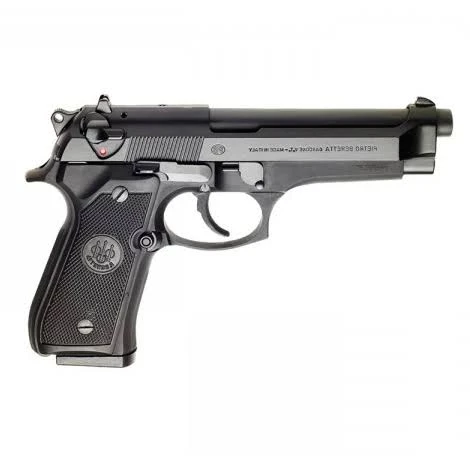 Product Description
Description: Beretta 92FS model pistols feature open slide design, non-glare finish, reversible magazine release, light aluminum frame and a combat style trigger guard. Specifications TypeSemi-Auto ActionSingle/Double Caliber9 mm Barrel Length4.9" Capacity15 + 1 SafetyAmbidextrous GripsSynthetic Sights3-Dot Weight33.4 oz FinishMatte BlackModel: J92F300
Beretta 92FS Listings
Beretta 92FS Reviews Antony K
October 27, 2017
Antony K on
Always wanted this weapon , I like the longer barrel 9mm. First box of ammo I was all over the place, now a few boxes later , we are printing raggedy holes at the range. Proven design and handles very well, a very accurate 9mm. I decided I wanted the 92FS in my collection as it has served in the US Military for many recent years. The fit and finish on this pistol is superb in my unprofessional opinion. I also purchased a Taurus 1911 because of its great history. I did shoot a 19 Even though I own a few makes of pistols, (Beretta, Taurus, Rossi, Glock), three of which are Beretta's, I love the feel of this gun in my hands. Smooth action, nice weight, little recoil, very accurate, and easily my favorite gun. On a scale of five, to This was my very first purchase from Buds and I must say, they really know their business. I bought it on a Monday and it arrived on Friday. When I inspected it at my FFL, the Beretta was in fine shape despite a little cosmoline. After good cleaning thoug Great gun and unbelievable purchase experience, will definitely be back to Buds. Ordered on Friday, had gun in my hands next Wednesday. Immediately put 50 rounds through it, smooth as silk. One of the best handguns I have ever fired. Will be my primary ho Jordan M
September 30, 2011
Just picked up my 92fs yesterday from my ffl. I got home and after closely inspecting the firearm, I noticed there is already paint chipping off under the barrel on the front of the gun, and a huge scratch on the barrel. This is a well balanced firearm,very accurate and fires quickly with no feed jam. I put well over 1000+ rounds through this firearm the first time I used it, and had no jams or damage. Probably the best 9mm ever made. Whether the civilian model FS92 or the military M9 version, this pistol has been in service for 20 years for a good reason; reliability. I've fired several thousand rounds through mine and it is now just beginning to get b Thurman C
October 19, 2008
This is my favorite 9. I have put about 500 rounds through it and no problems at all. Very accurate and the kick is manageable...so much so my wife now claims it as her own! It doesn't have too much kick to it.(as posted in a previous review) It is my favorite 9mm handgun that I have ever owned. Very accurate handgun. omg, this gun has alot of kickback, its a powerful gun! I love it, shot 300 rounds through it, no jams or anything, easy to take apart to clean. I love it!!!
Beretta 92FS Questions and Answers
Asked by
geoz48
5 years ago
This comes in a plastic case, bore brush, cable lock, (2) 15rd magazines, warranty registration card, owners manual and fired shell casing UPC:  082442818986 Description:  BTA 92FS 9MM DA PST 15R M ITLY Brand:  Beretta Model:  92FS Italian Manufactured Ty
Beretta 92FS Price History