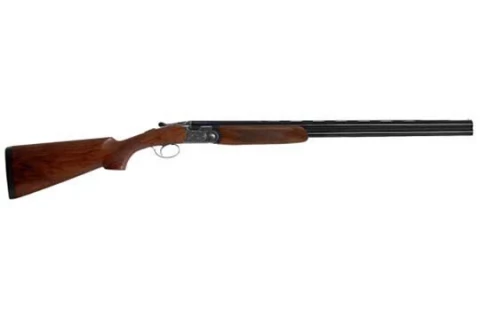 Beretta 690 Field III
Brand New
About Beretta 690 Field III
The Beretta 690 Field III is prettier than the average Beretta with higher grade walnut featuring some lovely figuring and a pleasant – if a little light – oil finish. The grain on our test gun was very straight through the hand and into the action body, promising plenty of strength. The fore-end is nicely rounded and as you would expect on a new gun, the chequering is well executed, if a little coarse. There is plenty of wood left on the gun, however, with quite a visible step from the stock down on to the action body.
Beretta 690 Field III Comparisons
Beretta 690 Field III Reviews The Gun Shop
January 2, 2019
Beretta 690 III Field Review - The Gun Shop
this is so like the previews 687, the main improvements of this gun is basically they made a bit sleeker and a lighter and also the kind of metal makeup of balance. this is the multi choke version, its less improvement but still great gun. The Beretta 690 Field III at the launch event in Italy.
This product is a hunting version of the 692, its got the same wood which is great achivement. it is water resistance but more resistance than the previews one. this gun has the good forced for the normal shot. 693
The 693 is lighter than the previous generation 687 Beretta over and under shotguns, thanks to the re-engineered barrel / forend-iron design. With the average 12ga 28" barrelled shotgun weighting only 3,35 kilograms, the 693 can go even lower than 3,25 kg Laura Nineham
January 2, 2019
Beretta 690 Field III
The new Beretta 690 Field III is really the game version of the Beretta 692, a competition gun that has been very well received by Jason Harris introduces the Beretta 690 Field II, the game-shooting cousing of the popular competition gun, the 692 which go Guns & Ammo
January 2, 2019
Introducing the Beretta 690 Field 3 Shotgun
this gun is really combining all that expertise and tradition with very very modern tech manufacturing techniques so as far as the stock the reciever everything is made because CNC machining cold hammer-forged. the design of the wood is really beautiful. AMAZINGGGGGGG, A VERY GOOD GUN
Beretta 690 Field III Variations
Beretta 690 Field III Questions and Answers
Beretta 690 Field III Price History