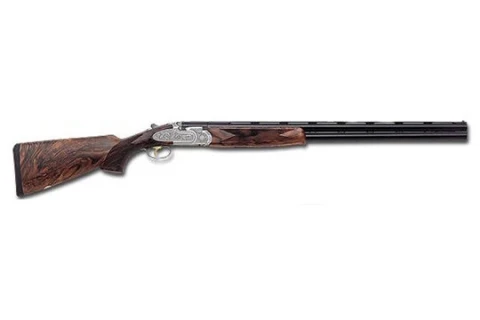 About Beretta 687
The Beretta 687 EELL Diamond Pigeon is the top of the line of Beretta's 680-series over-under shotguns and will shine in any upland hunting situation. In spite of its beauty, this ShotGuns is noted for its strength and you can confiedently pass it down to the next generation of hunters.
Beretta 687 Reviews Alex Flint
January 2, 2019
Beretta 687 EELL Classic
When mounting this gun it becomes immediately clear why it has such a good reputation, coming up to the shoulder quickly and consistently and moving effortlessly. Given the gun has 30″ barrels one might expect a little more weight in the front hand, howev Gun Reviews
January 2, 2019
Beretta 687 EELL
This is a smart, well finished gun, and it comes up well with a good balance just forward of the hinge pins. It does not feel heavy, but it does feel steady and pointable. The oiled stock finish is pleasing and practical The Gun Shop
January 2, 2019
Beretta 687 EELL Diamond Pigeon
The Baretta 687 s absolutely beautiful, it has wooden stock. What make it stand out is the side plate action. This is absolutely worth a buy. Lloyd Pattison
January 2, 2019
Beretta 687 EELL Shotgun Review
The Baretta 687 is kind a top of line high grade gun with side plates ang engraving, nicely struck of blue barrels and beautiful wood. Absolutely beautiful, it has wooden stock. What make it stand out is the side plate action. This is absolutely worth a Khanter
September 11, 2015
Khanter on
A great gun I've used
Beretta 687 Questions and Answers
Beretta 687 Price History