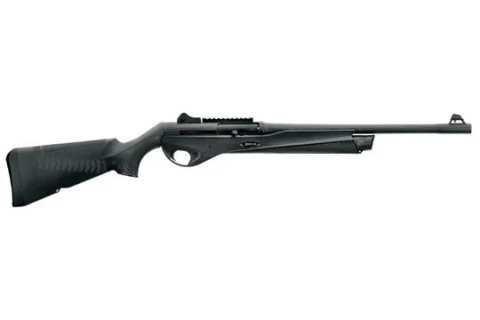 Benelli Vinci 10562
Brand New
About Benelli Vinci 10562
Description Benelli\'s revolutionary Vinci now comes in a tactical model. The simple, efficient, 3-inch, 12-gauge shotgun features Benelli\'s own In-Line Inertia Driven system. The Vinci Tactical is perfect for those moments when it matters most. Specifications Action: Semi-Automatic Caliber: 12ga Max Shell Length: 3" Weight: 6.7 lbs. Length of Pull (LOP): 14-3/8" Magazine Capacity: 3+1 Barrel Length: 18.5" Overall Length: 38.75" Choke: IC, M, and F Stock: Black Synthetic ComforTech Plus Item Condition New UPC 650350105629 MPN 10562
Benelli Vinci 10562 For Sale
Benelli Vinci 10562 Comparisons
Benelli Vinci 10562 Reviews TheTacticalGentleman
January 2, 2019
Shot Show 2014: Benelli - Vinci Tactical Shotgun
This gun features the inline inertia system, it also has a pistol stock, it's 18 inch barrel whith ghost ring sight and comes standard with a picatinny rail for mounting of optic the inline inertia system creates practical speed performance, it keeps the Gray Loon
January 2, 2019
Vinci Tactical Shotgun
This shotgun is simple yet beauful and efficient, it is three inch 12 gauge shotgun and ofcourse it comes in a tactical. It is inline Inertia driven system, available in two stock configurations and ghost ring sight. Kyle Wintersteen
January 2, 2019
Review: Benelli Vinci Tactical Shotgun
Aesthetically, the Vinci Tactical is as great a departure from tradition as it is internally—but what a fine-handling shotgun. The sweeping grooves across the fore-end may look a little odd, but they're wonderfully ergonomic and lend the Vinci a lively, s James Madison
January 2, 2019
SHOT Show 2014 - Benelli USA Davinci Tactical
This Benelli Davinci Tactical is completely modular and unique innovative, it has an extented mag tube that can hold 7+1 rounds, comes standard with optics mounting capability ghost sight. It is 18 and half inch barrel, pistol grip stock with a nice nubbe Atlantic Tactical Inc
January 2, 2019
Benelli Vinci Tactical Shotgun - Comfortech Stock - Ghost Ring Sight
The simply efficient Vinci Tactical shotgun cycles shells faster then ever and and is the easiest gun to assemble and disassemble.
Benelli Vinci 10562 Variations
Benelli Vinci 10562 Questions and Answers
Benelli Vinci 10562 Price History