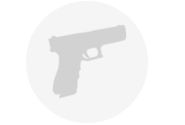 40 S&W - 180 Grain FMJ - Sellier & Bellot - 1000 Rounds
Brand New
About 40 S&W - 180 Grain FMJ - Sellier & Bellot - 1000 Rounds
Do you need a new practice round for your .40 S&W? Sellier and Bellot offers excellent training rounds at an affordable price and have been the choice of discerning shooters from the military, to law enforcement, to the weekend warrior and hunter. These .40 S&W rounds feature a 180-grain full metal jacket projectile, loaded into Boxer-primed, noncorrosive reloadable brass cases. These rounds are capable of a muzzle velocity of 968 FPS and are an ideal choice for plinking and practicing at the range. This case of Sellier & Bellot .40 contains 1,000 rounds, i.e. twenty, 50-round boxes. Since 1825, Sellier & Bellot has been a producer of high-performance ammunition and maintains a reputation for reliability. As one of the oldest manufacturers in the world, they continue to be a top choice of militaries and commercial shooters the world over.
40 S&W - 180 Grain FMJ - Sellier & Bellot - 1000 Rounds For Sale
Specifications
| | |
| --- | --- |
| Brand | Sellier & Bellot |
| Category | Handguns |
| Bullet Weight | 180 Grain |
| Bullet Type | Full Metal Jacket (FMJ) |
| Ammo Casing | Brass |
| Quantity | 1,000 |
| Primer Type | Boxer |
| Muzzle Velocity (fps) | 968 |
| Muzzle Energy (ft lbs) | 375 |
| Attracts Magnet | No |
40 S&W - 180 Grain FMJ - Sellier & Bellot - 1000 Rounds Comparisons
40 S&W - 180 Grain FMJ - Sellier & Bellot - 1000 Rounds Reviews S&B .40cal FMJ
Worked fine, no problems. good value with reloadable brass. Only ammo I use
I am the treasurer of a gun club and Lucky Gunner is my go to supplier. S and B has been flawless. It is all we use. Misfires
Had 4 misfires in the first 4 magazines. I will be searching for a different product great product and affordable prices
love this site, 40 cal ammo shot clean and accurate. my 40 cal s&w is ammo sensitive. the sellier & bellot ammo is perfect. clean, consistent ammo
Hard primers so some pistols won't ignite them but when the gun can the results are good. Clean and tight clusters at 20 yards. Not sure if it was the ammo or the gun
I recently purchased a Ruger SR 40 C. At first I thought it was the ammunition my gun kept jamming. I had to drop the magazine and clear the chamber after every 10 or 15 rounds. Once I got through 500 rounds I clean my gun for the first time that I went b Can't beat the price for the product!
Great ammo. Just put first 300 rounds through my new SR40c. Not one jam! Outstanding Ammo
Purchased 1,000 rounds of Sellier & Bellot 40 S & W so far I've put 500 through my Glock 22 & my Smith & Wesson sd40ve, not one FTE or FTF or malfunction of any kind. Simply awesome and Lucky Gunner just as awesome as always on pricing and ToddinSC
November 16, 2015
Great value
Grear value, no misfires, makes my CZ's feel at home. No problems Nice groups
The S&B .40 S&W is great for the range. Have shot a couple hundred rounds through my Sig P320 with no problems. Had really nice groupings at both 30 and 40 feet. Will definitely be buying more of this for the range. great for the range.
great ammo for a great price. shipping was lightning fast, ordering was super easy. only shot a box or two of the stuff but it all worked FANTASTIC. i definitely recommend this product. 40 cal Sellier and Bellot
The shipping was slightly delay by the ice storms on th east coast. Angela personally send an email to inform me of the delay. Very nice. Bullets arrive well packaged. 180 grain at a good price. Sellier and Bellot have been making ammo for years. I just s
40 S&W - 180 Grain FMJ - Sellier & Bellot - 1000 Rounds Variations
40 S&W - 180 Grain FMJ - Sellier & Bellot - 1000 Rounds Questions and Answers
40 S&W - 180 Grain FMJ - Sellier & Bellot - 1000 Rounds Price History