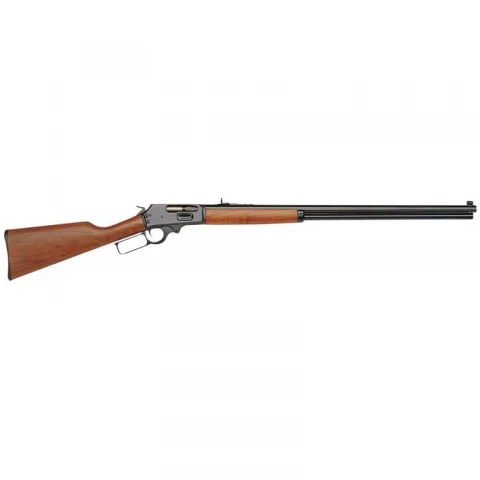 Featured Deal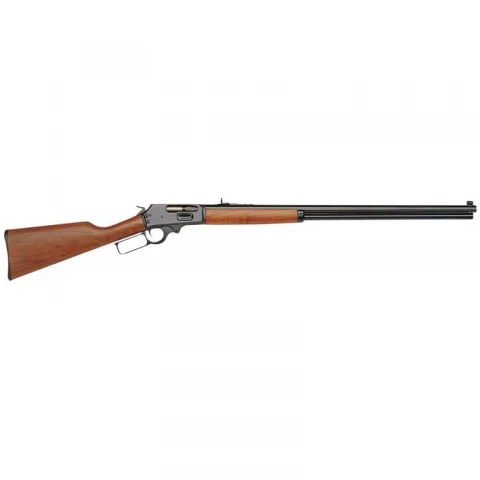 Marlin 1895 Cowboy
Brand New
Marlin 1895 Cowboy for Sale
Product Description
Lever-action. Authentically Old Western-styled. Side ejection. Tapped solid top receiver. Tubular magazine. Squared finger lever. Hammer block safety. American black walnut stock w/straight grip & Mar-Shield finish. Hard rubber butt plate. Blued steel forend cap. Adjustable Marble semi-buckhorn rear, Marble carbine front … read more sight. Tapered octagon barrel w/deep-cut Ballard-type rifling. To accommodate tang sight installation, serial number is located on left side of receiver. Deep blue finish. Wt.: 8 lbs. Includes: gun lock. Attributes: Caliber:.45-70 Govt Capacity: 9 Finish: Blue Product Model:MODEL 1895CB Sights:AS-Marble's semi-buckhorn rear, Marble's carbine front Stock:Walnut-genuine American Black, Mar-Shield finish
Specifications
| | |
| --- | --- |
| Brand | Marlin |
| Category | Rifles |
| Length | 44 1/2" |
| Action | Lever |
| Caliber | .45-70 Government |
| Capacity | 9+1 |
| Finish | Blue |
| Gun Type | Rifle |
| Sights | Iron Sights |
| Barrel Length | 26" |
Marlin 1895 Cowboy Comparisons
Marlin 1895 Cowboy Reviews MICHAEL W
September 16, 2019
Buds was great: sale, shipping, etc. My gripe is with Marlin. I bought this rifle with the intention of adding a scope. The receiver is drilled and tapped from the factory. When I went to add the scope, the three %u201Cdummy%u201D receiver screws from th KENNETH M on
This is one solid, well made rifle. Fully as good as any JM I have handled. Beautiful rifle. Hold it tight and wear some type of padding for your shooting shoulder, its a kicker Great rifle........love the western guns! When looking at firearms, I usually check out other dealers but more likely than not, always end up buying from Buds! Beautiful wood however forearm needs more fitting butt stock is great.great bluing and finish,good rifling shoots dead on.I will buy again very happy. Thomas L
January 10, 2019
This is one of my best buy's to date for this type of rifle! It shoot's 2-3 in groups right out of the box with open sights at 100yards. I'm sure it would do better with a scope but, I haven't gotten one yet. I love that it holds 10 rounds not 5 or 6 like I love this gun. I own more guns than I probably should but if I had to choose a favorite this would probably be close to top of the heap. I put a receiver sight on it and it will shoot 'Mickey Mouse" ear groups at 100 yards with my 405 grain hand-loads. james c
December 11, 2018
Very pleased with this Marlin 1895CB 26" barrel. Fitment of stock to receiver is perfect. Fore end stock fit is also great. Action is smooth. The trigger is a little heavy but smooth. This is a fine gun! Marlin has improved quality control considerably! L Anthony F
November 29, 2018
Another excellent rifle from marlin! William P
November 11, 2018
Bud's transaction was fast and easy! The rifle is beautiful and functions well. Mine appears to have been made in 2018. The fit/finish is deffinately acceptable with the wood-to-metal fit being almost perfect. I would recommend this rifle to anybody! Really cautious about getting into this dog fight, but - Here goes - My rifle is a 2018 production gun and - - I like it! Bought my first Marlin in the 1960's, a 336 in 30-30. These are blue collar guns for people who use them and maybe abuse them. All th David S
September 26, 2018
Hard to beat a Marlin. Great gun to have handy on the Montana ranch. Solid and reliable, just what I need.
Marlin 1895 Cowboy Variations
Marlin 1895 Cowboy Questions and Answers
Marlin 1895 Cowboy Price History