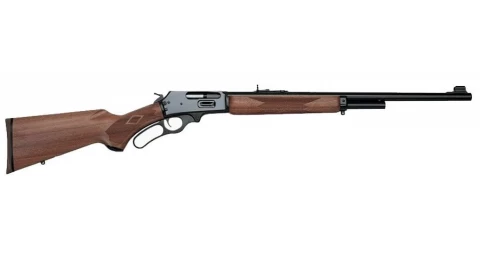 Featured Deal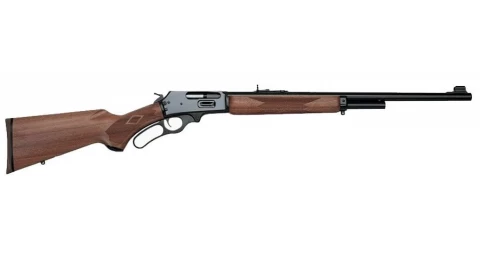 Product Description
Barrel with deep-cut Ballard-type rifling. Hammer block safety. American black walnut checkered pistol grip stock with rubber rifle buttpad and tough Mar-Shield finish with swivel studs. Adjustable folding semi-buckhorn rear, ramp front sight with brass bead and Wide-Scan hood. Tapped for scope … read more mount. Deeply blued metal surfaces. Safety lock included. Specifications: Front Sight: Ramp Front Sight with Brass Bead and Wide-Scan Hood Rear Sight: Adjustable Semi-Buckhorn Folding Read Sight Weight: 7 lbs Other: Deep-Cut Ballard-Type Rifling
Specifications
| | |
| --- | --- |
| Brand | Marlin |
| Category | Rifles |
| Length | 37" |
| Action | Lever |
| Caliber | .45-70 Government |
| Capacity | 4+1 |
| Finish | Stainless Steel |
| Gun Type | Rifle |
| Sights | Iron Sights |
| Barrel Length | 18 1/2" |
Marlin 1895 Reviews MICHAEL W
September 16, 2019
Buds was great: sale, shipping, etc. My gripe is with Marlin. I bought this rifle with the intention of adding a scope. The receiver is drilled and tapped from the factory. When I went to add the scope, the three %u201Cdummy%u201D receiver screws from th Kevin B on
I had heard about the dreaded "Remlin" rifle but fit and finish on this 1895 Classic is as good as any JM stamp Marlin I've ever seen. Great looking wood and deep dark blue. I wiped off the factory oil and worked the action about 100 cycles including dry This is one solid, well made rifle. Fully as good as any JM I have handled. Beautiful rifle. Hold it tight and wear some type of padding for your shooting shoulder, its a kicker Reginald D
April 24, 2019
LOOOOOOOOVE IT! Ever since I held my first .45-70 Guide Gun at a Shot Show many years ago I wanted one. I finally bought this one and I have zero, nada, none, no complaints. It eats whatever I feed it, is as accurate as I need it to be, I've never had Great rifle........love the western guns! When looking at firearms, I usually check out other dealers but more likely than not, always end up buying from Buds! Kenneth C
February 2, 2019
Excellent accuracy and functionality. Highly recommended. Bad knees and so have not had this gun to the range. Looking forward to the range when the weather warms up here in Illinois Beautiful wood however forearm needs more fitting butt stock is great.great bluing and finish,good rifling shoots dead on.I will buy again very happy. Thomas L
January 10, 2019
This is one of my best buy's to date for this type of rifle! It shoot's 2-3 in groups right out of the box with open sights at 100yards. I'm sure it would do better with a scope but, I haven't gotten one yet. I love that it holds 10 rounds not 5 or 6 like I love this gun. I own more guns than I probably should but if I had to choose a favorite this would probably be close to top of the heap. I put a receiver sight on it and it will shoot 'Mickey Mouse" ear groups at 100 yards with my 405 grain hand-loads. Amanda T
December 31, 2018
I was very pleased with the whole experience. I had never ordered a gun online before but the process was very simple. I was worried it wouldn't come in on time. I placed the order on a Friday and it arrived the next Wednesday. Gun was exactly what it was
Marlin 1895 Questions and Answers
Asked by
geoz48
4 years ago
Hey Tyler, no way to know for sure. Best bet is to click the "notify me when available" button on the product age over by where the price usually is. Then, buds will notify you by email once it is back in stock. Hope that helps!
Asked by
geoz48
5 years ago
No sales tax will be charged for Pennsylvania.
Asked by
geoz48
5 years ago
Hi Corbin, unfortunately Buds does not open new firearm packages. If you receive a gun that you do not like, you can always refuse transfer at your FFL. It will be returned and your money refunded. I wish Buds would open packages, it would save a lot of u
Marlin 1895 Price History