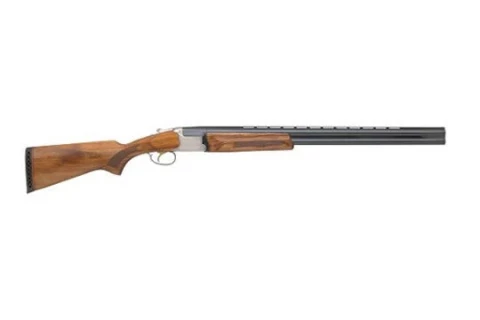 About EAA USSG MP310
USSG Model 310 Over/Under shotgun features a walnut stock and forearm with cut checkering. The machined steel monoblock receiver has a nickel finish and an auto selective ejector can be turned on or off. The MP310 also features hammer-forged, hard chrome-lined barrels with double dip bluing. They are ventilated ribbed and cast off with an auto tang safety and a single selective trigger. The MP310 comes with a rubber butt pad and 4 screw-in chokes (cylinder, improved cylinder, modified and full) to be ready for anything.
Detailed Review
The EAA USSG MP310 is a versatile shotgun designed for both hunting and sporting purposes. It has a 28-inch barrel and a wooden stock with a rubber buttpad, providing a comfortable grip and reduced recoil. The shotgun is chambered for 12-gauge shells, making it suitable for a wide range of shooting applications.
The EAA USSG MP310 features a lightweight aluminum receiver, which makes the shotgun easy to handle and maneuver. It also has a single selective trigger that allows the shooter to alternate between the two barrels without having to manually switch between them. This feature is particularly useful in hunting situations where quick shots are necessary.
The shotgun has a ventilated rib barrel with a front bead sight, ensuring accurate targeting and shot placement. The MP310 also comes equipped with screw-in choke tubes, allowing shooters to customize the shot spread to suit different game or shooting disciplines. The shotgun has a capacity of 2+1 rounds, providing ample ammunition for most hunting and sporting scenarios.
The EAA USSG MP310 has a classic design and an excellent build quality, making it a reliable and durable shotgun. It is also affordably priced, making it an excellent option for those who want a high-quality shotgun without breaking the bank. Whether you're a seasoned hunter or a beginner shooter, the EAA USSG MP310 is an excellent choice for a versatile, reliable, and high-performing shotgun.
EAA USSG MP310 Comparisons
EAA USSG MP310 Variations
EAA USSG MP310 Questions and Answers
EAA USSG MP310 Price History