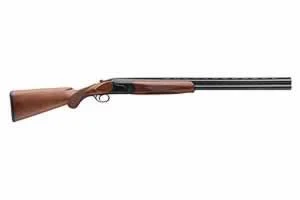 CZ 103 D Canvasback
Brand New
About CZ 103 D Canvasback
The Canvasback features a tastefully engraved, satin black finished receiver. Each shotgun in the Canvasback line is built on a frame sized specifically for its gauge. Available in 12, and 20 gauge, the Canvasback features automatic ejectors. Five screw-in chokes come standard with the Canvasback. Details that make the difference on these fine shotguns include your choice of 26" or 28" chrome lined barrels, quality Turkish walnut stocks, excellent wood to metal fit, hand cut checkering, and hand engraving.
CZ 103 D Canvasback For Sale
CZ 103 D Canvasback Comparisons
CZ 103 D Canvasback Reviews Cardo D. on
Great gun/ good for sporting clay. love it Had better wood then I expected. Fit and finish was good. Metal work was a bit rough but didn't harm any function. Used it for a season for mainly skeet. I didn't find it to be great for skeet due to the volume of shooting, wasn't much better at sporting Great over under good quality Turkish gun. Heavy enough for the recoil not to punish your shoulder but not to heavy to carry all day in the field. Wood is nice and engraving is acceptable quality at its price point. Overall a good quality gun for hunting The best choice for your pprsoue is the Savage Model 110.* Buy a 3X to 9X variable scope for it.* I prefer to shoot 180 grain ammo in mine.* You could also look at a Remington.*You cannot teach what you have not experienced.* First off let me say that I first checked out a CZ Canvasback about 10 years ago at a full blown RETAIL PLUS gun shop. I liked it way back then, but did not see paying the price they wanted for the gun, this is back in the day before I knew about Buds.com ***Best sub $1000 over/under period!*** This shotgun, the CZ Canvasback is definitely the over-under you want for starting out or if you are on a budget. I did my homework for many months prior to buying and the Huglu made CZs have quality, durability Gregory M
November 16, 2014
Can't beat this gun for the price. Nicely balanced, not a boat paddle like some others in this price point. Good value for what it is. Terry Sherk
August 30, 2013
I bought a 20ga. Canvasback Gold several months ago and the more I shoot it the more I like it. This gun has a 12ga. Twin that is in my future plan. Great gun/ Great value! Hamilton G
September 7, 2012
This is the first O/U gun I have owned/shot. I was very impressed with the quality of the gun. It isn't your typical fancy aristocratic gun, but it shoots extremely well and swings nicely. I shoot trap and skeet mainly.I advise people to buy a limbsaver r Dennis Kelley
October 22, 2004
This gun looks great and shoots great! I must admit that when I went looking for a low priced shotgun, I expected a lot less than what I got. I would recommend this gun over many other higher priced guns. It has quickly become a favorite.
CZ 103 D Canvasback Variations
CZ 103 D Canvasback Questions and Answers
CZ 103 D Canvasback Price History