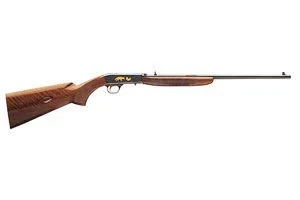 Browning SA-22 Grade VI
Brand New
About Browning SA-22 Grade VI
New In Box. Part Number:021002102 Buds Item Number: 28272
Browning SA-22 Grade VI For Sale
Browning SA-22 Grade VI Comparisons
Browning SA-22 Grade VI Reviews Ratworxusa
January 11, 2019
Browning SA-22 Grade VI 22LR 19.25" 12+1 Gloss Walnut Stock Grey Rec
It stands alone as one of the first auto-loading rimfires and one the most desirable rifles ever made. The SA-22 was one of the last of John M. Brownings designs, and his genius shines through in every feature. The slim, stylish forged steel receiver and MyHollowpoint
January 11, 2019
Browning .22 Semi Auto Grade VI
this is just a beautiful gun, the design of it is just genius, it has a brass bead on the front blade, gorgeos stock, this is a takedown model, it is drilled and tapped you can install a scope and the rear sight can be adjusted for windage and elevation, Gunivore
January 11, 2019
Browning SA-22 Rifle Review: Browning Is Rifle Ready!
They are the perfect gun to introduce to new shooters, especially younger children. Besides for the great history, the 100 years of SA-22 production has culminated in a weapon that is the perfect balance of sturdy and elegant. It shoots accurately and eve Colehurst
January 11, 2019
Browning SA-22 Grade 3 Belgium (Best Groundhog Defense Tutorial)
This is beautful and cool self defense rifle, the gold trigger is so cool and very smooth action Nice engraving as well. its very accurate and the gun itself is unique. Browning
January 11, 2019
Shot Show Specials 2011 SA-22 Grade VI
The design is pretty good and lightweight, its easy to hold and smooth action trigger, It is one of the best 22 cal rifle on the market. Extremely accurate.
Browning SA-22 Grade VI Variations
Browning SA-22 Grade VI Questions and Answers
Browning SA-22 Grade VI Price History