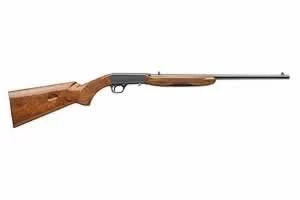 About Browning SA-22
New In Box. Part Number:021001102 Buds Item Number: 28271
Specifications
| | |
| --- | --- |
| Brand | Browning |
| Category | Bolt Rifle |
| Length | 37" |
| Action | Semi-Automatic |
| Caliber | .22 LR |
| Capacity | 10+1 |
| Finish | Blued |
| Barrel Length | 19.25" |
Browning SA-22 Comparisons
Browning SA-22 Reviews GUNTESTS
January 11, 2019
Browning SA-22 Grade I 22 LR
The little SA-22 Browning had lots of drop to its rather huge stock, which made it very comfortable on the face. Although the rifle was compact and felt good from the shoulder, we were at a loss to use its iron sights effectively. They were okay for young sootch00
January 10, 2019
Browning 22 Semi Auto Rifle
This is the classic semi auto matic rifle also known as the 22, actually started production in 1914 and continues production even today. this rifle considerd one of the very first 22 production rifles made as classic, its sleek lines its lighweight its ba Uberti Firearms
January 10, 2019
Uberti 1885 High-Wall Rifle
This is known for its reliability, the Browning Centennial Semi Auto Rifles are great for hunting and target shooting. Able Ammo
January 10, 2019
Browning Semi-Auto 100th Anniversary Rifle 021017102, 22 Long Rifle, 19 3/8", High Grade Wood Stock, Satin Gray Finish
It stands alone as one of the first autoloading rimfires, and one the most desirable rifles ever made. The SA-22 was one of the last of John M. Brownings designs, and his genius shines through in every feature. The slim, stylish forged steel receiver and The best .22 you could very have, smooth and great feel. Marshall S
December 31, 2017
The fit and finish on this rifle is outstanding but it%u2019s a Browning so that%u2019s to be expected. The function is smooth, however; I fired 50 rounds of cci through the weapon 10 rounds at a time and in each iteration the rifle failed to feed sometim Great gun. It as good as advertised. Not as the one my Dad had 60 years ago, but close. As a teenager l owned a Browning SA22 rifle (55 years ago) and sold it when I started collage. I have regretted that decision for years, so I decided to correct that mistake by buying a new SA22. Just like my first Browning rifle, it has the same perfect comaradella
February 6, 2016
What a beauty, I had one when I was a kid, hare terror gunnwild1
January 2, 2016
That is one beautiful rifle you have there Chuck. I love the walnut furniture I have 3.....and love them all!
Browning SA-22 Variations
Browning SA-22 Questions and Answers
Asked by
geoz48
4 years ago
Greg, this particular Browning Rimfire is made in Miroku in Japan. Info at the bottom right here : browning.com/support/frequently-asked-questions/firearms-manufactured.html
They have been made in japan since the 70s. Prior to that, Belgium.
Asked by
geoz48
4 years ago
Yes it is a "Take Down" Jay. (Complete Specifications and features): - Browning SA-22 Grade I Semi Automatic Rifle - .22 Long Rifle - 19.25" barrel with polished blued finish - 1:16" twist - 11 round tubular magazine - Takedown steel receiver with polishe
Asked by
geoz48
5 years ago
The difference is the type of engraving on the receivers, grade or figure of wood used in the stock and forearm, etc. Generally, the higher the grade number, the higher the value of the engraving and the higher the grade of wood.
Browning SA-22 Price History