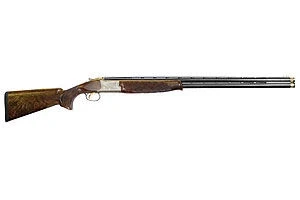 Browning Citori 625 Sporting IV+AC
Brand New
About Browning Citori 625 Sporting IV+AC
Browning 12 Ga. Citori Sporting w/32" Vent Rib/Ported Barrel/Adjustable Com The 625 Citori Sporting is poised to redefine over and under shotgun performance. Vector Pro lengthened forcing cone technology works with the included Invector Plus Diamond Grade choke tubes to maximize ballistic performance. Luxuriously finished wood features beautiful checkering. Intricate receiver artwork ensures the 625 Sporting looks as great as it performs. SPECIFICATIONS: Mfg Item Num: 013399426 Category: FIREARMS - SHOTGUNS Action :Over and Under Gauge :12 GA Barrel Length :32" Vent Rib/Ported Capacity :2 Chamber :2 3/4" Length :50 3/8" Weight :8 lbs 9 oz Drop :1 3/4" Adj @ Comb & 2 1/2" Adj @ Heel Stock :Gloss oil finished walnut Finish :Silver Receiver/Blue Barrel
Browning Citori 625 Sporting IV+AC For Sale
Browning Citori 625 Sporting IV+AC Comparisons
Browning Citori 625 Sporting IV+AC Reviews Browning
January 10, 2019
Shot Show Specials 2011 Citori 625 Sporting Lefthand
this gun comes with a stock that made specifically for a left handed shooter comes with 28, 30, 32 inch barrel, 12 inch barrel chamber, sight on and folded barrel. Browning Citori 625 Sporting golden clays
The 625 sporting clays is the exact same gun as the 625 golden clays without all of the gold "bling-bling" on it. The appearance of the sporting clays is identical to the golden clays and still has the silver nitrade finish with the gold inlayed browning GunsAmerica.com LLC
January 10, 2019
Browning Citori 625 Sporting
This beautiful 30in barrel 12ga shotgun has only had a few boxes through it. It was cleaned promptly after shooting and then stored in a Gun Safe. Zero scratches on stock or barrel. No longer shoot trap/skeet as the field in town got closed down. Gun come Browning.
January 10, 2019
Citori 625 Sporting Small Gauge
When you uncase this sporting/target gun at the range, its beauty and magnetism will draw crowds. The Citori 625 Sporting is born to shoot clay birds and look good doing so. It's high-relief Engraving and gold embellishments adorn both sides and bottom of hickok45
January 10, 2019
Browning Citori Special Sporting Clays Edition Close-up
It is just a gourgeous shotgun, it has a really nice and fun to shoot, its really good in close range, everyting you want from Shotgun is here in Citori special sport. This is a great Sporting Clays gun. I dumped my high dollar beretta for this gun and it was the best decision I have ever made.
Browning Citori 625 Sporting IV+AC Variations

Compare 1 deals from $2293.60

Compare 1 deals from $1415.20
Browning Citori 625 Sporting IV+AC Questions and Answers
Browning Citori 625 Sporting IV+AC Price History