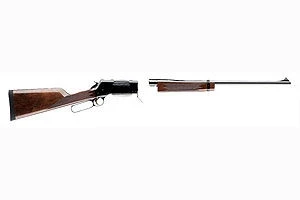 Browning BLR Lightweight '81 034011108
Brand New
About Browning BLR Lightweight '81 034011108
Compact and easy to transport, the BLR Lightweight '81 Takedown can be assembled or disassembled in just seconds. The gloss finish on the Walnut straight grip stock contrasts beautifully with the deeply polished blue finish on the receiver and the barrel. This is what a serious lever-action rifle should be, and what every other lever-action wishes it was.
Browning BLR Lightweight '81 034011108 For Sale
Detailed Review
The Browning BLR Lightweight '81 034011108 is a versatile rifle that can be used for a variety of purposes including hunting, target shooting, and even self-defense. The firearm features a lightweight design with a sleek profile which makes it easy to handle and carry. It comes with a precision barrel that ensures accurate shots every time.
The rifle has a lever-action mechanism that allows for smooth and fast cycling of rounds. The lever is located in front of the trigger guard and can be easily operated with one hand. The rifle comes with a detachable box magazine that holds four rounds, making it easy to reload quickly.
The BLR Lightweight '81 is chambered for various calibers including .22-250 Remington, .243 Winchester, .270 Winchester, .308 Winchester and .30-06 Springfield. This versatile chambering makes it suitable for a wide range of game from small varmints to larger big game animals.
The rifle features an adjustable trigger that can be customized to the shooter's preference. The pull weight can be set between 3 and 5 pounds, allowing for a crisp and clean trigger break. This feature also enhances accuracy and makes it easier to shoot accurately at longer ranges.
The BLR Lightweight '81 is built with high-quality materials and craftsmanship, ensuring a durable and reliable firearm. The receiver is made from aircraft-grade aluminum alloy, which is both lightweight and strong. The stock is made from beautiful and durable walnut wood, giving it a classic and timeless look.
The firearm also comes with a scope mount that allows for easy attachment of a scope or other optics. This makes it easy to customize the rifle to suit the shooter's needs and preferences. Whether you are hunting in the woods or shooting at the range, this rifle is sure to impress with its accuracy, reliability, and versatility.
Browning BLR Lightweight '81 034011108 Comparisons
Browning BLR Lightweight '81 034011108 Reviews The Hunting Gear Guy
January 9, 2019
Browning BLR Review
The rack based operates more smoothly than a typical Win 94, and the bolt locks up solid enough to fire powerful cartridges. The detachable magazine is faster to load than a tube, and it also enables further flying pointed bullets vs the flat or hollow po Choco Latte
April 7, 2018
Very cool. I like that gun. mdredheadguy1979
April 2, 2016
Looks like a very nice rifle. I bet that take down makes it easier to travel with for hunting out side of your state.
Browning BLR Lightweight '81 034011108 Variations
Browning BLR Lightweight '81 034011108 Questions and Answers
Browning BLR Lightweight '81 034011108 Price History