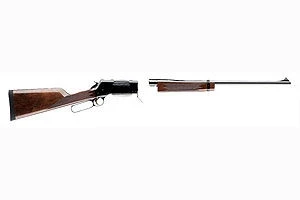 Browning BLR Lightweight '81 034011108
Brand New
About Browning BLR Lightweight '81 034011108
Compact and easy to transport, the BLR Lightweight '81 Takedown can be assembled or disassembled in just seconds. The gloss finish on the Walnut straight grip stock contrasts beautifully with the deeply polished blue finish on the receiver and the barrel. This is what a serious lever-action rifle should be, and what every other lever-action wishes it was.
Browning BLR Lightweight '81 034011108 For Sale
Browning BLR Lightweight '81 034011108 Comparisons
Browning BLR Lightweight '81 034011108 Reviews The Hunting Gear Guy
January 9, 2019
Browning BLR Review
The rack based operates more smoothly than a typical Win 94, and the bolt locks up solid enough to fire powerful cartridges. The detachable magazine is faster to load than a tube, and it also enables further flying pointed bullets vs the flat or hollow po Choco Latte
April 7, 2018
Very cool. I like that gun. mdredheadguy1979
April 2, 2016
Looks like a very nice rifle. I bet that take down makes it easier to travel with for hunting out side of your state.
Browning BLR Lightweight '81 034011108 Variations
Browning BLR Lightweight '81 034011108 Questions and Answers
Browning BLR Lightweight '81 034011108 Price History