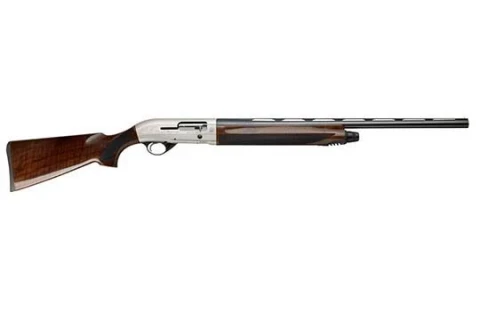 About Beretta AL391
The Beretta AL391 20 Gauge are a semi-auto shotugn that is great for hunitng upland birds as well as shooting clays. Versatile and reliable, the Beretta AL391 20 gauge are great choice. The Beretta AL391 is a semi-automatic shotgun. It is manufactured, marketed, and distributed by Fabbrica d'Armi Pietro Beretta, in Gardone Val Trompia, Italy. The AL391 is most often used for hunting birds, and for clay target games such as trap and skeet.
Beretta AL391 Comparisons
Beretta AL391 Reviews Jason Harris
January 5, 2019
Beretta A1391 Lightweight shotgun review
The gun is supplied with five Optima Plus multi-chokes, chambered for 3in cartridges and subjected to Special steel shot proof. All-in-all, an attractive colour scheme. Its light-weight it's smooth to shoot with a wide range of cartridges though might sto Randy Wakeman
January 5, 2019
Beretta AL391 Urika 2 Shotguns
It really is impressive, looking so good and so natural that a couple of the "Gold" versions appeared to have wood a notch back from the "X-tra Grain" standard models. There is only one thing you'll found distasteful about the X-tra grain; that being that Gun Reviews
January 5, 2019
Beretta AL 391 Urika
Beretta semis are not only engineered for durability, but they usually handle well too. The test gun is no exception. It feels solid, but not too heavy. This is a big issue with semi-automatics. Some feel completely lifeless, those that don't are ofte Lloyd Pattison
January 4, 2019
Beretta AL391 Urika Shotgun Review
Beretta AL391 is a very nice gun to shoot and hold ergonomically. The grip radius is quite nice the length of pull is spot on it's not to short. Overall this a nice gun and worth to buy. The Gun Shop
January 4, 2019
Beretta AL391 Urika Gold Sport Overview
Beretta AL391 it got a sporting slap slaps over the barrel and this one is a B enter this a 2000 model but it was just ready to go over the aesthetic of this g As for the gun, it's been everything I hoped it would be. In terms of construction, it's definitely top notch. Everything is machined beautifully - inside and out - and it all fits together into a solid and inspiring weapon. I've usually tended towards gl
Beretta AL391 Questions and Answers
Beretta AL391 Price History