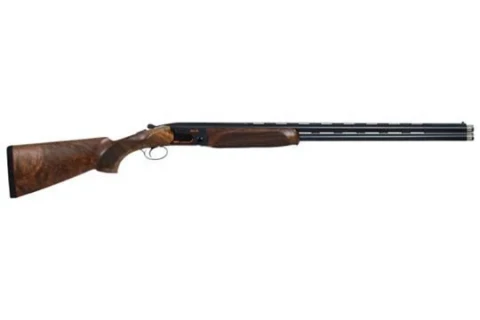 About Beretta 690
An exceptional shotgun that is perfect for anyone who wants to take their shooting skills to the next level. This shotgun is designed for sporting and competition shooting and is packed with features that make it stand out from other shotguns on the market. One of the most impressive features of this shotgun is its accuracy. The wide rib allows for easy target acquisition and a consistent sight picture, while the adjustable stock and recoil pad ensure a custom fit that greatly improves accuracy. You can shoot this shotgun with confidence, knowing that each shot will be precise and on target. Another impressive feature of the Beretta 690 Sporting Black BE2054L is its reliability. This shotgun is designed to perform flawlessly, no matter what conditions you are shooting in. It fires without any issues, and you won't have to worry about malfunctions or misfires. This shotgun is also easy to clean and maintain, which means that you can spend more time shooting and less time cleaning. Finally, the Beretta 690 Sporting Black BE2054L is a beautifully designed shotgun that is sure to turn heads. The black receiver and dark wood finish give it a sleek and sophisticated look, while the intricate engraving adds an extra touch of elegance. It's not just a gun; it's a work of art. Overall, I would highly recommend the Beretta 690 Sporting Black BE2054L to anyone who is serious about their shooting skills. With its accuracy, reliability, and stunning design, it is truly one of the best shotguns on the market today.
Beretta 690 Reviews Renaissance Firearms RenArms
January 2, 2019
Beretta 690 Sporting Unboxing
This has a matte finish on it, non glare at the extended choke tubes , two beads sights, it's got the route mid bead, and the front bead. It got a double locking lugs, ultra strong action. It got trunnions that can come out and be replaced. The gun is re Fabbrica d'Armi Pietro Beretta S.p.A.
January 2, 2019
Beretta Black Edition 690 Sporting
Beretta 690 sporting is characterized by orange, very technical engraving/piping, that want to remind also of the clay target. All the shotgun has a matching between polished and matte surface. About the technical features it has a MicroCore pad, the wood I spent a fair amount of time with a borrowed Silver Pigeon 686, and I was ready to buy one for myself. Saw the 690 in the store, and it caught my eye with the cleaner black finish, orange lettering, and really nice wood. After holding it, it was clearly
Beretta 690 Questions and Answers
Beretta 690 Price History