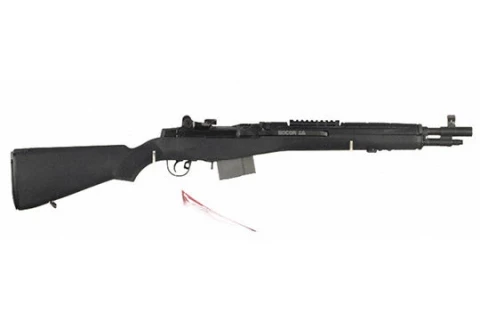 Springfield Armory M1A SOCOM
Brand New
About Springfield Armory M1A SOCOM
Before Springfield Armory introduced the M1A SOCOM 16 in 2004, 7.62 NATO power in a package this small was previously unthinkable. Shooters who need a compact rifle no longer have to settle for a lesser caliber, although they can expect less felt recoil and less muzzle rise, thanks to the SOCOM 16's unique design. The SOCOM 16 starts with a specially-engineered 16" Parkerized carbon steel barrel that is mated to the gas system with a proprietary muzzle brake. The muzzle brake reduces felt recoil and keeps muzzle rise so flat that follow-up shots have never been so easy. The enlarged ghost ring aperture rear sight and XS Tritium Insert in the front sight give you the quick target acquisition capability you want and need under any conditions. If your mission calls for optics, the SOCOM 16 features Springfield Armory's forward scout-style Picatinny mount. Of course, the SOCOM 16 also has the legendary performance and reliability that M1A shooters have come to love and expect. If your mission requirements call for a compact tactical rifle, but won't let you sacrifice power, you need the SOCOM 16. Caliber: 7.62X51MM NATO (.308WIN) Length: 37.25" Front Sight: XS Post w/ Tritium Insert, .125 Blade Barrel: 16.25" Twist 1 In"; RH; 6-Groove Carbon Steel Weight (with Empty Magazine): 8.8 lbs. Rear Sight: Enlarged Military Aperture .135 w/ MOA Adjustment For Both Windage and Elevation Magazines: 1 - 10 Round, Parkerized Steel Stock: Flat Dark Earth Composite Before Springfield Armory introduced the M1A SOCOM 16 in 2004, 7.62 NATO power in a package this small was previously unthinkable. Shooters who need a compact rifle no longer have to settle for a lesser caliber, although they can expect less felt recoil and less muzzle rise, thanks to the SOCOM 16's unique design. The SOCOM 16 starts with a specially-engineered 16" Parkerized carbon steel barrel that is mated to the gas system with a proprietary muzzle brake. The muzzle brake reduces felt recoil and keeps muzzle rise so flat that follow-up shots have never been so easy. The enlarged ghost ring aperture rear sight and XS Tritium Insert in the front sight give you the quick target acquisition capability you want and need under any conditions. If your mission calls for optics, the SOCOM 16 features Springfield Armory's forward scout-style Picatinny mount. Of course, the SOCOM 16 also has the legendary performance and reliability that M1A shooters have come to love and expect. If your mission requirements call for a compact tactical rifle, but won't let you sacrifice power, you need the SOCOM 16. Caliber: 7.62X51MM NATO (.308WIN) Length: 37.25" Front Sight: XS Post w/ Tritium Insert, .125 Blade Barrel: 16.25" Twist 1 In"; RH; 6-Groove Carbon Steel Weight (with Empty Magazine): 8.8 lbs. Rear Sight: Enlarged Military Aperture .135 w/ MOA Adjustment For Both Windage and Elevation Magazines: 1 - 10 Round, Parkerized Steel Stock: Flat Dark Earth Composite - See more at: http://www.budsgunshop.com/catalog/product_info.php/products_id/12573/Springfield+M1A+SOCOM16+FDE+7.62NATO308#sthash.gowLjPce.dpuf
Springfield Armory M1A SOCOM For Sale
Springfield Armory M1A SOCOM Comparisons
Springfield Armory M1A SOCOM Reviews Joli M on
Nothing much to review? The gun and timely delivery were on point! Love my M1A SOCOM. Sorry not to say more, however, I have to adorn her :) for battle readiness and get her squared away for the ball. This rifle was everything I hoped it would be- and then some. Buds took my trade in and that worked out very well. Shipped new gun out rapidly. Very impressed by Buds service and on the ball people. Went to the range with it and performed flawlessly. Shot Jamie S
December 27, 2018
Love this rifle! Sights were right on target out of the box. Shoots great and can't wait to take it moose hunting in the bush! As always Bud's did a great job from the get go. Tammy M
November 30, 2018
My husband loves his Socom 16. I was suprised that I enjoyed it and how easy it was on recoil. I recommend this for anyone who may be considering a 308 in any model. My husband said if anyone is trying to choose between an AR 10 or Socom 16....the Socom w Excellent improvement over the standard M1A1 SOCOM. Pistol Grip and AR type Stock with cheek riser is excellent. The Vortex red dot is nice, small, and lightweight. I gave this rifle a four-star rating because it is difficult to operate in a combat situat rehubdemo
January 10, 2018 This is my rifle. I removed the picatinny rail and replaced the handguard. Very awesome rifle in a small package. MY SPRINGFIELD SOCOM 16 ARRIVED IN A GOOD LOOKING RIFLE SCABBARD. IT'S ALL I THOUGHT IT WOULD BE...TOOK IT OUT TO THE RANGE AND AT 100 YARDS OFF HAND SHE SHOT IRON-SIGHTS RIGHT ON THE MONEY! I'M VERY PLEASED WITH MY PURCHASE. I was very impressed with the rifle and the excellent customer service at Buds. My only complaint is the safety was extremely stiff and yes I know the rifle needs to be cocked to engage the safety. Wonderful rifle! It's a beast! Awesome gun glad I bought it , shoots great also came with case I didn't expect to get. you need to get one!! excellent customer service. TheCtYankee
January 29, 2016
Anyone buying Springfield M1A SOCOM 16 knows what they're buying. Great rifle with legendary performance and durability. I can't speak to the durability, but the performance is everything I expected and more. The price definitely caught my attention but a
Springfield Armory M1A SOCOM Variations
Springfield Armory M1A SOCOM Questions and Answers
Asked by
geoz48
4 years ago
Yes this is perfectly legal here in Ca.
Asked by
geoz48
5 years ago
20%. Hi Justin, layaway is just a few steps - just add item to your cart - Select Checkout - Select your FFL - Select Checkout option "Layaway" - Select checkout method for min of 20% down payment - Once down payment is made your layaway is complete. With
Asked by
geoz48
5 years ago
Do you recommend to fire .308 ammo?
308 and any 7.62 that fits is fine. Stick with American made ammo and you should have no problems.
Springfield Armory M1A SOCOM Price History