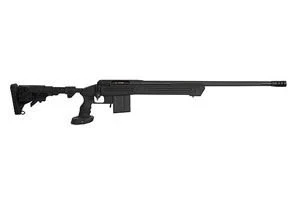 Savage Arms 10 BA Stealth
Brand New
About Savage Arms 10 BA Stealth
The Model 10BAS is designed for accuracy and dependability and features an M4 all aluminum AccuStock, AccuTrigger, 24" heavy fluted barrel with muzzlebrake, 10 round detachable box magazine and multi adjustable buttstock.
Savage Arms 10 BA Stealth For Sale
Savage Arms 10 BA Stealth Comparisons
Savage Arms 10 BA Stealth Reviews Garrett J
November 15, 2019
Garrett J on
Very nice rifle at a great price, hands down the lowest price I could find. Shipping was incredibly fast and service was great. Questions asked were answered and product delivered was superior. Would recommend! Joseph B
September 20, 2019
Buds Gun Shop delivered fast as expected to my FFL.rnMy first Savage rifle, so did not know what to expect. Based on the reviews on the 10BA Stealth, I decided to jump in the 6.5 creedmoor game. Most of my shooting is with 300 Win Mag and 308 Win. All I c Awesome rifle, awesome price! I took my 10BA stealth to the range for the first time this past week after owning for quite some time. It is an absolute tack driver. I am not a precision marksman, but was able to hit a quarter sized group at 100 yards after zeroing. The trigger was I purchased the gun as a first time foray into longer range shooting. I am not new to shooting, but I am to long range shooting. I've only put a box through it, but I am impressed so far. Recoil is far less than I expected, a function I think of the weig Great Rifle Wanted to get into long range shooting, but not mortgage the family home. Gets nice tight groups good for the range. kind of heave to lug around in the woods for hunting I like everything about this rifle so far. Another smooth transaction from Budsgunshop.com Quick easy purchase, fast shipping took only 7 days to receive and best prices anywhere. Will be buying more thank U!!!!! Incredibly accurate rifle, the fit and finish is wonderful. Buds rocks! stetson s
September 4, 2018
Solid gun. 2 things off the bat to consider. One. The rail is 0 MOA. So. Ranging 1000 is your limit in large part Two rear bags on the standard AR butt stalk is somewhat tough to manipulate/maintain. Not a deal breaker. Still shooting a fair group but I personally love this gun.Besides its great looks it is one of the most fun guns I have ever shot. The only down side i have with the rifle is it magazine. There is not an actual 6.5 mag but you can buy magpul 7.62 AC AICS Short Action mags that'll fit j Went back and forth between the stealth and rpr for a while. I like the look and feel of the stealth as well as the fact that you can buy a mid level scope with the $ saved versus the rpr. I've only got 20 rounds of factory match ammo though it, but my la
Savage Arms 10 BA Stealth Variations
Savage Arms 10 BA Stealth Questions and Answers
Savage Arms 10 BA Stealth Price History