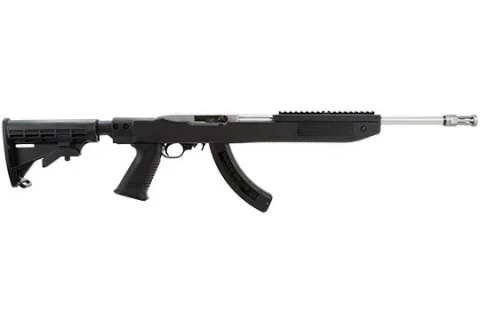 About Ruger 10/22
RUGER 10/22 22LR SEMI-AUTO RIFLE. BRAND NEW!!! W/ BOX
Ruger 10/22 Reviews Purchased this 10/22 for my 10 year old son to use. The stock adjustments were exactly what I was looking for. He should be able to shot this rifle at all stages of development. Typical 10/22 trigger replacement was needed but the rifle functioned as it s Spiridon T
October 3, 2018
Spiridon T on
This is my first .22 rifle and my first purchase from buds gun shop and I must say the service, product, and shipping was top notch from the very beginning. The rifle arrived at my FFL very quickly and in great condition. I will definitely buy my firearms Great accurate fun little gun I have used it for plinking and hunting. Love it . Shoots very well and is very comfortable to shoot all day. trigger broke after 25 rounds. Since repair has worked good. Front sight has come off repeatedly. Not a tight fit into the groove This rifle is so much fun. I'm extremely pleased with this tacti-cool 10/22. The stock is comfortable and just cool-looking with the 25 round factory mags. It's accurate and woos me to burn through .22 ammo every time I shoot it. Thanks, Bud's! Nice rifle. A must have for every household. Cycles ammo with no issues. Got a foregrip for mine and looks real cool. With a BX25 mag... Awesome!! Patrick P
February 21, 2017
Awesome deal on this gun. 90 day layaway was nice and smooth. Matthew H
January 13, 2017
What can you say about the ruger 10/22. It's reliable an American af. Gets the job done with any ammo. The pistol grip helps a lot and attaching a bipod foregrip, scope, light and laser this makes this one of the best tactual 22s. Certainly for the money. Pleased, Thank You, Bud's. Just picked this rifle up from my local FFL dearler and overall I am very satisfied. Like others said, the rifle comes with the straight stock equipped but it comes with the angled stock in the box. It looks like I got a cheaper price than what is listed This is really a nice rifle at a good price, recived everything that was described in the description in excellent condition. loaded the mag with 25 rounds and pulled the trigger 25 times with no FTF or FTE, sweet!!! ordered the rifle on a thursday and pi Great Rifle Great deal from Buds
Ruger 10/22 Questions and Answers
Ruger 10/22 Price History