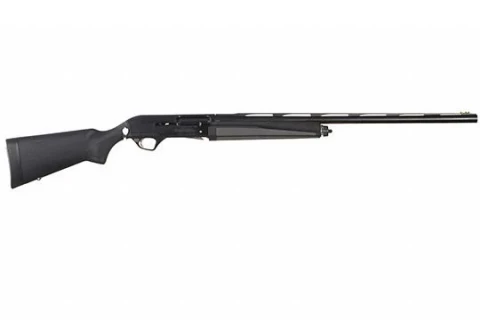 Remington Versa Max
Brand New
About Remington Versa Max
Versa Max shatters convention and all previous benchmarks for reliability with an action unlike any that have come before it. Proven in the field and in extreme tests of endurance with thousands of test rounds, it cycles 12-gauge loads with ultimate consistency, softer recoil and less maintenance than many other shotguns. The TriNyte barrel and nickel Teflon-plated internal components offer extreme corrosion resistance. It has a drilled, tapped receiver and an enlarged trigger guard opening and larger safety for easier use with gloves. The synthetic stock and forend have gray overmolded grips and and adjustable comb. These models include 5 flush-mount Pro Bore chokes (Full, Mod, Imp Mod, Light Mod, IC). This shotgun is also available in Left Handed model.
Remington Versa Max For Sale
Specifications
| | |
| --- | --- |
| Category | Rifles |
| Length | 49.93" |
| Action | Semi-Automatic |
| Capacity | 2+1 |
| Finish | Black |
Remington Versa Max Listings
Remington Versa Max Comparisons
Remington Versa Max Reviews Terry G
December 10, 2018
Terry G on
Really great shotgun! I harvested an 11 point whitetail buck with it 3 weeks ago. Holds good patterns. Jhonny
September 20, 2018
Very nice gun. so accurate This gun has been a pleasure to shoot, ejects every shell with no hang ups. Quick eject for faster shots. Jackson
September 29, 2017
really want this gun in my collection. Daniel M
December 1, 2015
I purchased this shotgun for waterfowl hunting and over any of the inertia shotguns via recommendations from other waterfowl hunters. After some extensive patterning, loading and unloading this shotgun, I can say that I am VERY impressed with it. The mach I've had this gun for four years now. It's an awesome gun. I had some initial problems with the forestock nut loosening, but a quick trip to Remington fixed the issue. I had a little bit of a problem with double feeding, but it turned out to be carbon bui Norman B
January 28, 2014
Great shotgun! Put 300 rounds through it over two visits to the range. No misfires, smooth action ate up 2.34 to 3.5" rounds with different loads without a hitch! Remington quality and dependability!
Remington Versa Max Variations
Remington Versa Max Questions and Answers
Remington Versa Max Price History