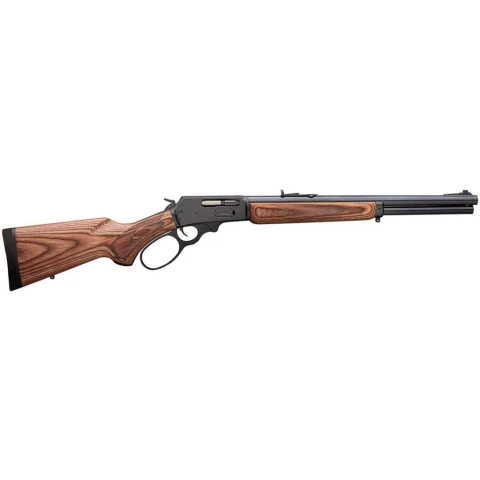 Featured Deal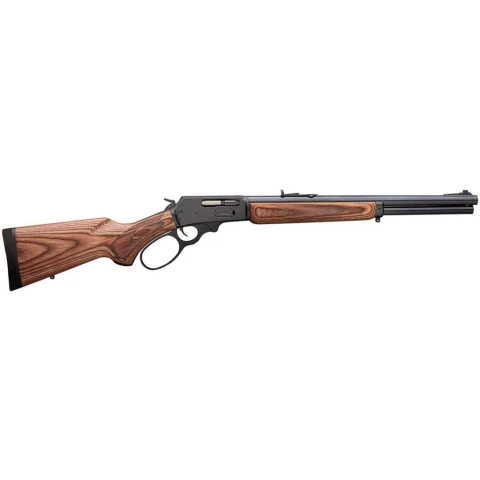 Marlin 1895 GBL
Brand New
Product Description
With a big-loop finger lever for easy deployment with gloves and a full-length tubular magazine offering six rounds of .45-70 Gov't. firepower, this rifle is big, fast-acting medicine in any neck of the woods. It features a two-tone brown laminate stock for … read more enhanced weather resistance and distinctive looks. SPECIFICATIONS: Mfg Item Num: 1895GBL Category: FIREARMS - RIFLES Action: Lever Caliber: .45-70 Government Barrel Length: 18 1/2" Overall Length: 37" Capacity: 6 + 1 Trigger: Single Stage Safety: Hammer Block Front Sight: Ramp Front Sight with Brass Bead and Wide-Scan Hood Rear Sight: Adjustable Semi-Buckhorn Folding Read Sight Weight: 7 lbs Stock: Brown Laminate Finish: Blue Other: Deep-Cut Ballard-Type Rifling
Specifications
| | |
| --- | --- |
| Brand | Marlin |
| Category | Rifles |
| Length | 37" |
| Action | Lever |
| Caliber | .45-70 Government |
| Capacity | 6+1 |
| Finish | Blue |
| Gun Type | Rifle |
| Sights | Iron Sights |
| Barrel Length | 18 1/2" |
Marlin 1895 GBL Comparisons
Marlin 1895 GBL Reviews MATTHEW P
October 10, 2019
MATTHEW P on
Fantastic all-around big game rifle for Michigan hunting. I bought this to use for Whitetail hunting in the thick woods of Michigan, as well as bear hunting up in Ontario. The lock-up on the action is solid and not wobbly like a Winchester Ranger 1894 3 3rd 1895 in my lineup. First was the SBL, then a GBL for my wife, then this GBL for me. I know Marlin went through some QC issues during the first 2 or 3 years after the sale to Remington, but none of those issues presented in my 2016 SBL, nor either of m The rifle i received is nicely fitted, though not perfect. Operates as it should. Buds delivered faster this time than the last firearm i purchased through them. Happy with my purchase. Michael P
February 17, 2019
Love this beast..dont listen to the negative reviews. Michael M
February 8, 2019
This gun is great, love it. Fit and finish are perfect. Very high quality finish. Cycles perfectly. The 45-70 gov is a great bullet and this rifle is the assault rifle of it's day, (1895) It does have a lot of thump when shooting it, but that's what makes Donald B
January 25, 2019
Love this rifle. My most favorite rifle ever. Had one once and sold it. I soon regretted selling it. I bought another. 2nd one came from Buds. Super fast delivery. No problems at all with Buds. Did I mention this is my fav rifle? Love this product! Knockdown power for pretty much anything. Remington made Marlins are a fine firearm. The fit and finish of the wood and metal on this rifle is great. I put a 3x9 Burris full field on with weaver rings and bases to keep the weight down. I sighted in with Hornady Leverevolution 325 grain factory am Marlin 1895 ABL arrived in short order at the best price possible thanks to Bud's. Remington has gotten it right. Fit and finish is excellent and very impressed with the bluing on this rifle. Action is surprisingly smooth for a new lever action. Very very I really love my Marlin 1895 GBL! I have wanted one for a long time. My rifle is beautiful. I could not be happier!! The purchase was simple and the FFL transfer was only $20 and equally simple. I will be ordering from Bud's from now on! Dewayne B
September 13, 2016
Grate people to work with .first gun I order from them.but not the last .don't listen ever thing u hear or see it may or may not be true.ever one hasa.bad day.or it would not b life.thanks u all at buds gun shop. Very happy! Buds is always great so never a worry there. Mine was made in October 2015. The fit an fishing is very good. It appears that Remington is getting it together on these. Rifle shoots well, and very accurate. I added the XS ghost ring sights, wha
Marlin 1895 GBL Variations
Marlin 1895 GBL Questions and Answers
Marlin 1895 GBL Price History