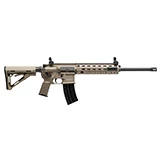 Featured Deal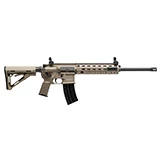 Product Description
A direct descendent of the HK416, the MR556A1 is a semi-automatic rifle developed by Heckler & Koch as a premium level commercial/civilian firearm with match rifle capability. Like the HK416, the MR556A1 is a major product improvement over conventional AR-type carbines and … read more rifles. The MR556A1 uses the HK proprietary gas piston operating system, employing a piston and a solid operating pusher rod in place of the gas tube normally found in AR15/M16/M4-style firearms. This method of operation virtually eliminates malfunctions that are common to direct impingement gas systems since hot carbon fouling and waste gases do not enter the receiver area. This is the same key feature critical to the success of the HK416 rifles used by leading military and law enforcement customers. The MR556A1 is produced in the USA using American and German made components. The MR556A1 uses many of the same assemblies and accessories originally developed for the HK416. Like the famous HK416, the MR556A1 uses a German-made barrel produced by Heckler & Kochs famous cold hammer forging process. The highest quality steel is used in this unique manufacturing process producing a barrel that provides superior accuracy and long service life. But unlike the HK416, the MR556A1 does not use a chrome-lined barrel. Chrome-lining can sometimes mask bore imperfections and negatively affect accuracy. For the new series of Heckler & Koch semi-automatic MR rifles, HK designers and engineers believe best accuracy comes with an unlined bore. The unchromed barrel has an internal profile of 6 lands and grooves with a 1 in 7 inch (178 mm) twist. It is also moderately swagged with a slightly smaller internal diameter at the muzzle end than the chamber end. This feature has a positive effect on bullet accuracy and velocity. The thick, heavy contour 16.5-inch MR556A1 barrel also contributes to its excellent accuracy. A precise enhanced two-stage trigger adds significantly to the accuracy of the MR556A1 and an extended latch charging handle makes operating the rifle with a telescopic sight easier. The retractable buttstock can be locked into a solid, non-moving position by tightening an Allen screw in the bottom of the stock. Special target rifle takedown pins ensure the upper and lower receivers are firmly mated for accurate performance. Designed to function with a wide variety of high quality 5.56 x 45 mm ammunition, the MR556A1 uses a C.I.P. dimensioned chamber (a chamber with dimensions specified by the Commission Internationale Permanente).The MR556A1 also functions reliably with most quality Caliber .223 Remington ammunition. The MR556A1 is being produced with the same commitment to quality as German-made HK firearms. By using joint U.S./German manufacturing, Heckler & Koch leverages the relative strengths of two continents to make the preeminent AR-type firearm, combining the designs innovations of the USA and Germany into one new product.  *NOTE* rail system may differ from the one pictured.
HK MR556A1 Listings
HK MR556A1 Reviews functions great, bcg stays cool no matter how many rounds i put through it, but they made everything with such tight tolerances that none of my big name brand polymer magazines will work in it, and cleaning it is a pain... disassembling and reassembling t kenneth p
September 27, 2018
kenneth p on
what can i say about the german engineering , top of the line brian a
November 14, 2017
Great transaction with buds. Will definitely be doing business in the feature. Thanks again for a great experience. I will keep this review simple. After shooting it a few times I have to say it is the best rifle I have ever owned. Fit and finish was flawless. It is very accurate and I have not had a malfunction of any kind, although I have only been to the range twice Vincent R
September 5, 2017
The HK MR556, civilian model to the HK416, is a fine weapon and built like a heavy tank. It is a bit heavy at 8 pounds empty and over 9 pounds loaded. Very accurate out of the box.and never jams. The short stroke piston system is a huge advancement over t The Heckler and Koch MR556A1 is the best out of the box AR platform money can buy , bar-none . Save the coin , buy from Buds , you'll be very satisfied . DO IT! Amazing rifle. The detail and workmanship is will worth the price. It shoots great and excels in accuracy. 1" MOA at 100 yds. Thanks Bud's I bought a HK 556, I originally had it on my wish list, I was informed when they were available and I purchased it. No problems. I have purchased over a dozen firearms over the past four years with Buds and have never had a problem. You must inspect the f Thanks to Buds for the great service and prompt shipping. Buds layaway program can be a huge help sometime, and it is the easiest system to use. I always check Buds 1st for just about all my firearm needs. As for my new MR556A1, well its almost mind blowi My first impression it that I could build a comparable rifle for 1k & have 2K left over for the optics pkg. While it may be a quality piece, there are plenty of quality parts on the market which do not add up to their price point. Excellent 223 AR a little pricey but definitely top of the line. Fed 600 rounds thru it over the weekend nothing but spectacular performance and as always Buds was second to none in customer satisfaction. Excellent layaway program, quick shipping and fast Chris K
February 28, 2012
I just purchased this 3 weeks ago. It took until yesterday to receive it, but what a beauty. The fit/finish is unmatched. I'm taking it to the range this weekend. I'm so excited! It arrived in excellent condition with all the parts and accessories. This i
HK MR556A1 Questions and Answers