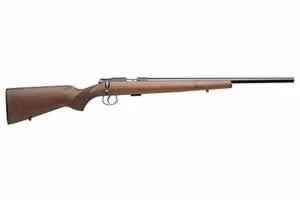 About CZ 452 Varmint
THE RIMFIRE RIFLES PRODUCED BY ČESKÁ ZBROJOVKA UHERSKÝ BROD DUE TO THEIR CLASSICAL CONSTRUCTION AND UNFAILING RELIABILITY ARE RANKED AMONG THE MOST SOUGHT-AFTER LONG GUNS OF THEIR KIND ON THE WORLD MARKET. QUALITY, LONG SERVICE LIFE, ACCURACY AND SAFE HANDLING ARE THE MAIN VIRTUES OF THESE FIREARMS INTENDED FOR HUNTERS AND SPORTS SHOOTERS. UNPARALLELED ACCURACY IS ATTAINED IN ALL CZ RIMFIRES MODELS, BESIDES OTHER THINGS, THROUGH THE USE OF HAMMER FORGED BARRELS. THIS IS NOT THE CHEAPEST OR FASTEST WAY TO BUILD A BARREL, BUT IT IS PART OF OUR "TAKE THE TIME TO DO IT RIGHT" ATTITUDE. THE BARREL CAN BE PROVIDED WITH THE MUZZLE THREADED FOR A STILL OR PARKER-HALE SOUND SUPPRESSOR ATTACHMENT. THE RECEIVER IS MADE FROM ONE BILLET OF HIGH-QUALITY STEEL AND IS PROVIDED WITH A MILLED DOVETAIL TO ACCOMMODATE SCOPE MOUNT. THE TRIGGER OF THE CZ 452 RIMFIRES LINE IS ADJUSTABLE BY THE USER. QUALITY AND ATTENTION TO DETAILS HAVE MADE THE CZ RIMFIRE RIFLES A GROWING FAVORITE AMONG SMALL GAME HUNTERS AND SPORTS SHOOTERS. AVAILABLE IN BOTH WIDE ARRAY OF MODELS AND A WIDE RANGE OF PRICES WE HAVE A RIMFIRE TO MEET ANY APPLICATION. CZ 452 VARMINT IS A HEAVY BARREL VERSION OF THE AMERICAN, FEATURING A 21″ HEAVY BARREL AND IS MADE WITHOUT OPEN SIGHTS, BUT WITH DOVETAIL GROOVE.
CZ 452 Varmint Comparisons
CZ 452 Varmint Reviews Peter Kolovos
September 17, 2016
Peter Kolovos on
My left-handed CZ 452 American is superbly accurate and a solidly built rifle. So much so that I'm using it for Smallbore F-class events. Most of the guys I shoot with are shooting CZ rifles. Nothing can touch them, not even the mighty Anschutz. Dan Lam
September 8, 2016
This is a great little gun. Wish I had another one. kevin rodriguez
May 14, 2016
My favorite rifle by far, very fun to shoot. while hunting you can see the hits through the scope because there is absolutely no recoil when the bullet hits a small rabbit or varmint you can hear a very loud smack sound. the rifles size and stock fit me p Charles B
September 10, 2011
I really like this gun. It likes any ammo that I've put through it and is very accurate. Very good craftsmanship, both metal and wood. The action is smooth and solid. This has the feel of a quality centerfire rifle. Mine is mounted with a Weaver RV-9 scope and is very consistently accurate at 100 yards.
CZ 452 Varmint Variations
CZ 452 Varmint Questions and Answers
CZ 452 Varmint Price History