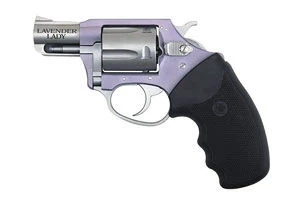 Charter Arms Undercover Lite 53841
Brand New
About Charter Arms Undercover Lite 53841
The heart of the Lavender Lady is the popular Undercover Lite, but with an unique and attractive lavender anodized frame finish accented by a stainless barrel with "LAVENDER LADY" on it. Whether work dictates carrying lethal force or carrying a revolver for peace of mind, the Undercover Lite provides impressive stopping power while weighing a mere 12 oz. Constructed of tough aircraft-grade 7075 aluminum and steel, this double action only Undercover Lite Lavender Lady offers rugged reliability and comfort. This ultra-lightweight 5-shot .38 Special features a 2" barrel with fixed sight and a black rubber grip for shooting comfort.
Charter Arms Undercover Lite 53841 For Sale
Charter Arms Undercover Lite 53841 Comparisons
Charter Arms Undercover Lite 53841 Reviews Rick M on
This is what we called beautiful gun!!
Charter Arms Undercover Lite 53841 Variations
Charter Arms Undercover Lite 53841 Questions and Answers
Charter Arms Undercover Lite 53841 Price History